Name: Lilyanne Carlson
From: Hemingford , Nebraska
Grade: Junior
School: Hemingford High School
Votes: 0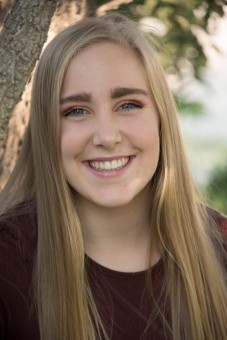 Lily
Carlson
Drive
Safer
I
have never met anyone or really heard of anyone being affected by
drunk driving;however, I believe there has been countless times
people have lost loved ones because of others actions. To lose
someone before due time is heart wrenching however to lose someone
because of another's actions would be absolutely devastating you
would be angry at the person who brought you pain and you would think
what if. Both resulting a broken heart. It's awful to lose someone
but even worse to event you wish you could have changed I've never
personally have had the effects of another's choice to drink and
drive thrusted upon me. I think a lot about drunk drivers though.
Where I work people often get something to eat and then they stay and
drink as much as they want and sometimes they drive home so by the
end of the night my mind is filled with images of those people behind
the steering wheel. It's always late at night so it increases the
dangers of not seeing them, them not seeing you or them not seeing
the slick spots on the road. I can truly testify is terrifying you
hold your steering wheel tighter, turning your knuckles white your
head starts to move more on a swivel checking every corner of your
vision just so if they are there you can see them in time to react so
that the police officers on duty don't have to tell your family of
the awful news. Sense the day I started working at my current job I
have become more cautious about the drivers around me, I've had to
think defensively and sometimes just hope that nothing bad happens
that night. I know my actions have encouraged others to be safe and
not drive when they are intoxicated and that means a lot even it is
just one person not drinking and driving that's one less accident
that could end terribly. I have never been affected by drunk drivers
actions however I know many have been affected by the actions of
others so I encourage my friends and I take caution myself when it
concerns driving in general. Instead of being rash and reckless I
strive to encourage others who do participate in drinking to have a
designated driver and to be safe no matter what they are doing that
night for their simple action of choosing to drive home could have
major results on someone else's family. Not only in encouraging
others but in my own actions I try to be calm and not act to rash on
the road to avoid being too close to other cars and to always be
mindful of my surroundings. I don't want one of my foolish actions to
change someone else's life for the worst to have that burden fall
on to my shoulders would be something I personally could ever forgive
myself. So I make sure im extra cautious and mindfull so that no one
ever has to hear the heart breaking news that their loved one is no
longer with them because of my actions.