Name: Chanel M Sisson
From: GRAND JUNCTION, CO
Grade: chanel.sisson@gmail.com
School: chanel.sisson@gmail.com
Votes: 0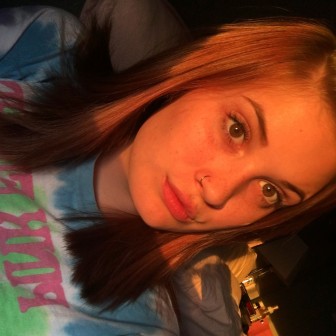 November 21st,
2017 was the day I lost almost everything. It all started in May,
life was great. I had my whole life planned out. I had a 3.6 GPA.
Things at home seemed to be perfect. I had planned to graduate early,
go to college, get a job. Well, almost perfect. As time passed, I
felt as though a part of me was dying. I had no clue what was wrong
with me. Summer seemed to help suppress this feeling but the Fall of
my junior year everything changed.
It was a new school year, the
first two weeks of the first semester seemed fine. That was, until
the day I started getting bullied. I was body shamed, called nasty
and derogatory names, and betrayed by the ones I thought were closest
to me. I felt vulnerable and was knocked down to my core. So much so,
that I was susceptible to believing what others were calling me. As
the months went by, I felt as though everything that happened to me
was my fault. It ate me up inside and made me hate myself.
Nothing in life could seem to
cheer me up, not even the things I loved doing the most. My grades
and attendance started to slip, and my GPA dropped drastically. I
began to hurt myself as a way to punish myself for every mistake I
made. Eventually, it grew into something worse than I ever thought I
could possibly go through. I felt completely hopeless and utterly
alone.
The night of November 21st,
I was writing goodbye letters to my loved ones, because I had planned
to harm myself for the last time to end all the pain I felt. Luckily,
my dad found me before I could do anything to myself and I was
admitted into West Springs Hospital. I was there for about a week and
with the help of the staff, my parents, and incredible support
system, I was able to find love for myself and happiness once again.
The following semester was
better. I tried my best to pull myself out of the hole I had dug
myself in. Unfortunately, that did not seem to help much, in so far
as, improving my GPA. This year, however; my senior year, has been
great so far. I have been diligently working to reach my goal of a
4.0 GPA in order to boost my cumulative GPA. Although I know it will
not be easy, it is worth the effort because I want to go far in life.
I want the opportunity to do great things. Not only for myself, but
for my family and others around me.
I do not use what happened to
me as an excuse for poor behavior and academic performance, but as a
lesson that life is tough. However, it will be far more difficult
without a good education. I have chosen to participate in
volunteering at the soup kitchen for the homeless and have helped
care for children numerous times in the nursery at St. Mathew's
Catholic Church. In addition, I have a part time job I work hard to
succeed in.
This
scholarship would be beneficial to not only me and my education, but
also in helping me get a head start in having less debt throughout my
educational years. Rather than worrying about how I am going to pay
off student loan debts, this scholarship will provide me the
additional funding I need to focus on my dream job. What is my dream
job, you ask? I want to be a veterinarian. Ever since I was a kid I
have known I have wanted to be a veterinarian because of my strong
love for animals. I was always the kid crying when the animal shelter
commercials came on or when an animal died in a movie. As I grew up I
became more and more set on the idea of wanting to do anything in my
power to save animals because I strongly feel they are people too.
Even now, I am coming closer to that goal. I am currently enrolled in
a veterinary program that, at the end, will give me over 100
veterinary clinical hours, seven college course credits and a
veterinary assistant certification.
My
goal is to complete my general education credits at Colorado Mesa
University. I plan to transfer to one of the top veterinary school's
in the nation, Colorado State University to complete the full 8 years
of veterinary school. Ultimately, I want the ability to travel and
take care of sick animals all over the world.

Personally,
nothing is more stressful than having to worry about how well I'm
doing in school. Not to mention, worrying if I can afford the
education I will need complete in order to do what I love. Having
this scholarship would help relieve me of at least one stressful
obstacle so I may focus on bettering my education. This will put me
one step closer to completing school all while incurring less debt.
Thank you I hope you will consider me as a worthy candidate for this
scholarship.