Name: Marylinn Hamblin
From: Logan, UT
Grade: 12
School: Logan High School
Votes: 0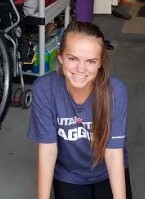 Make
a Difference
There
are many different ways to volunteer and in many different places. It
would seem somewhat selfish if I stood around and didn't do
something to help others in some way or another. There are so many
people who don't have as much as I do and this is why I like
volunteering at various places. Two main places that I love
volunteering. The first one is the local food pantry, I love going
there are helping sort food so that they can sell it to the less
fortunate. The other is called Loaves and Fishes, which is held at a
church and every Saturday they get volunteers and make and serve food
to those who don't get much food during the week.
I
love serving at the food pantry because it is helping others and a
great thing to do with friends. They give us huge boxes filled with
donated food and we have to go around and sort all of it into these
different labeled bins. After we finish that box we go to the next
one and the next one, until we have been there for an hour or so. It
seems like a lot of work, but the time flies and it is a great
experience for people to have. Since we sort all of the food they can
then take the full bins and start shelving them at the little store
they have there. Then they let people in and give them the food for
next to nothing. The food varies from huge bags of flour to little
rice crispy packets.
I
have spent over ten hours volunteering at the food pantry. There is
always plenty to do and it is a great way to help feed the hungry and
to serve my community. I would always go with my family and some of
my friends and they all wanted to go back the next time I went
because how simple but impactful it was.
Loaves
and Fishes is also a good place to go to volunteer and feed the
hungry. Every Saturday they people that run it get a big group of
volunteers and they prepare a lot of food and then they let people in
and they can just come and get as much food as they want. They let
people take a lot home too and they usually have a ton of leftovers.
The volunteers also usually prepare some sort of entertainment such
as singing or piano playing. It is a great experience and really
helps a lot of people who would otherwise go hungry.
I
love volunteering at these places and making a difference in others
lives. I have committed to going to these places as often as I can so
I can help others to not go hungry and to serve my community in a
positive way. Making a difference in the community is what
volunteering and service are all about.