Name: Kayron Vasconcelos Alba
From: spring, TX
Grade: Junior
School: Klein High school
Votes: 0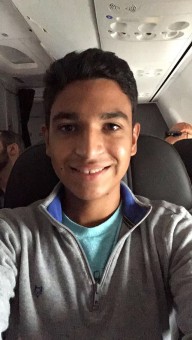 A
crash that changed my life
In this generation, traffic is one of the main issued to be
addressed. It seems that as years go by, car accidents become
popular. It is very important to alert others about this issue
because many more car accidents are happening more frequently than
ever before resulting In tragic deaths from very young to very old.
I was once in a car accident and it was terrifying but also life
changing. My name is Kayron Alba and I was an orphan for 7 years of
my life until I got adopted back in 2014. I was only 5 years old when
my parents and I were coming from a water park located in Manaus,
Brazil. My dad had intoxicated and was also driving. It was a dark
wet night when my dad had crashed the car. The car fell of the
shoulder of the street and went down tumbling everywhere. My mom was
thrown of the window and my dad was stuck inside the car. They both
died right away, and my dad's last word were: "My wife". Had my
dad not been drinking and using sit belt like you are supposed to, it
could have been a happier end. I was inside of the car but with a
miracle from heaven I was alive and am now here to tell the story.
My dad wasn't wearing sit belt and was intoxicated. He put his
family in danger. We must address this situation more and more.
People are being put in danger because of the driver not doing the
right thing. Also in this modern world with technology another source
of distraction in the roads are you phones. How many people,
especially teens use their phone while driving.

You are only given one life. I am always very careful with this
topic. Always trying to teach people the right way while they are
alive. I have been in this situation where I lost my parents when I
was only 5 Years old and I know what it feels like. Your live is more
important the other distractions!