Name: Hugo Alberto Lopez Jr.
From: Mesquite, Texas
Grade: Senior
School: halopezjrcollege@gmail.com
Votes: 0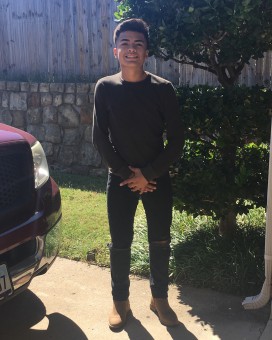 Hugo
Lopez
Mesquite
High School
February
11, 2019
Think
About Tomorrow
According
to the United States Department of Labor, someone dies every twelve
minutes to automobile related incidents (Guidelines for Employers to
Reduce Motor Vehicle Crashes). By the twist of a key to the ignition,
a person's life is put at risk. A car is an everyday object we see,
but it is an everyday threat that is imposed on the streets of our
community.
Driving
instructors must teach new hands-on drivers the correct way when
approaching a road sign, or simply how to predict a situation
depending on the driver's surroundings. Driver education should be
applied everyday a person is on the road. By educating new drivers
the correct manner to maneuver a vehicle, drivers grasp a sense of
safety precautions on the road. Implementing an idea of driving
correctly significantly reduces death as a result of ensuring a
driver's questions are answered in the classroom. As a licensed
driver myself, we must be retested on the intel we receive during
driver's education. Driving everyday, I witness many rules being
broken and drivers are not reminded of their wrong-doings.
Establishing
secure guidelines requires drivers to take steps to reduce the number
of deaths on the road. People fail to simply evaluate their driving
surroundings. A driver must mentally and physically prepare
themselves when they are on the road. By putting your cell phone on
mute, or making sure your mirrors are set correctly are vital steps
to ensuring safety when driving. A driver must exercise the skill of
prediction and vision on the road. Practicing these vital skills will
guarantee the driver is always prepared for any unexpected situations
based on a another driver's decisions. Having awareness is vital to
reducing the deaths of driving.
I
have witnessed poor safety precautions within my family. One day, on
a saturday night, I had received a phone call that my mother had been
a car accident. She had, unfortunately, totaled her vehicle due to
her poor decisions of using awareness on the road. She had not
realized the driver in front of her was slowing down, and she rear
ended the other driver. She was unaware because of her decision of
wanting to change the radio station. She was not thinking of
tomorrow. She was not aware of the danger she put in herself, or the
other drivers on that road. She did not imagine of becoming another
statistic on the internet, reminding people of the dangers on the
road.
The
nation's industrious innovations seem to constantly revolutionize
the automobile. Regardless of how advanced cars become, we must never
forget the mortality rates of fatal car accidents on the road. By
acquiring the knowledge of driver's education and steps to ensure
safety, a driver thinks about tomorrow and becomes one less fatal
statistic.
Works
Cited
"Guidelines
for Employers to Reduce Motor Vehicle Crashes." Occupational
Safety and Health Administration,
www.osha.gov/Publications/motor_vehicle_guide.html.