Name: McKenzie Morgan
From: Damascus , Maryland
Grade: High School Junior
School: Damascus High School
Votes: 0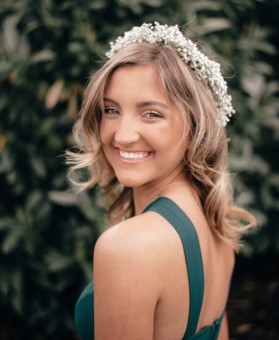 Baseball- a sport I found dull my whole life. Every game I had ever
been to was long, sweaty, and confusing to understand; as far as I
was concerned, the only reason to like the sport was for the
overpriced hotdog that never fails to hit the spot. However, when an
opportunity through my high school came up to be the Varsity Baseball
Manager, I decided to give it a go with my best friend, Lily. The
first day of practice it was thirty degrees outside and we were shown
where a variety of cleaning supplies were kept. We were told that
this would be our job for a majority of the season. I looked to Lily
with a concerned face, as 'cleaning lady' was not the title I had
signed up for. The rest of practice was spent sitting uncomfortably
in the dugout while the players awkwardly walked by us. I did not
want to go back another day, this, I thought, was a complete waste of
time. Although, something in me told me to go back. Within seven days
I never wanted to miss a day. My community service hours were spent
vacuuming floors, picking up after smelly teenage boys, taking out
the trash, and emptying out lockers.
However, my community service hours were so much more than being designated
'cleaning lady'. They were helping the coaches pack bags for
games, keeping score of the game and track of the pitches, shagging
balls in the outfield during a hot practice. They were spent building
friendships with boys that stick up for me, support me, and rely on
me. They were spent building relationships with adults, parents, and
coaches; I learned that these were social skills that no classroom is
able to teach. They were spent working on goodie bags, posters, and
decorations for big games and monumental days in their season. I
laughed on the school bus, I smiled in the dugout, I cherished every
win, and I thanked myself for going back that second day. Losing in
the first round of playoffs when we were a team predicted to make it
to states was heartbreaking and I'm not ashamed to admit that I
cried like a baby with my teammates afterward. However, those tears
brought realization to me. For what was once a sport I dreaded I came
to love for so much more than it actually was. I have done hundreds
of community service hours over the years but I have never done
something so enjoyable, so genuinely valuable as managing the
baseball team. Those smelly, dirty, teenage boys were so much more
than that- they were teammates, friends, my baseball family. My three
months as a manger were some of the most rewarding of my life. Lily
and I were asked to manage the American Legion team over the summer
and I've been asked to come back next year with a new sidekick to
train. Baseball- the season of life that changed my heart forever.