Name: Marissa Chapman
From: willow park, Texas
Votes: 53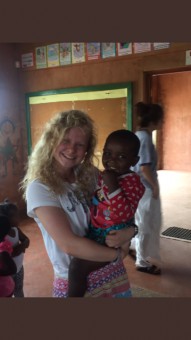 Two years ago I went on a mission trip with my school to South Africa.
The start of this trip was nerve racking and the travel was long and
exhausting. I have never been so far away from my family and that was
way out of my comfort zone. Once we finally arrived we worked with an
orphanage/school that was called Khula. Khula was a place for
children to go to that gave them a safe place away from home to
learn, eat, and play. Khula accepted children of all ages as the
younger children would come in the mornings and the older kids would
come in the afternoon. The head teacher at Khula spoke english pretty
well, but the children and other teachers had a harder time. There
were over a hundred kids who came to Khula everyday with only four
teachers who cooked, cleaned, and taught the children. When we
arrived to Khula every morning we would sit with the children while
they were being taught. We would help as much as we could with the
teaching, but it was hard because the younger kids really did not
understand english. We also helped the teachers in the kitchen
prepare and serve for the kids as well as doing arts and crafts with
the kids. Although the children did not have much and could not speak
very well the love that they spread was so pure. Throughout my week
spent at Khula I never saw one child cry or throw a fit about
something that they could not have. Each child shared their toys and
food with everyone.
Once I came back from my trip it made me realize how thankful I should be
with everything I have. People take way too much for granted and
should be more pure about the love and care for people around them.
At the beginning of this trip I was so nervous about how I would
interact with the children because of the language barrier, but the
trip ended up teaching me that love can be spread through anything.
The language barrier that was between the kids and I did not change
the love and care they gave me. The trip taught me that it is okay to
step out of your comfort zone and try new things especially when it
comes for helping those in need.