Name: Kristina Holsapple
From: Joppa, Maryland
Votes: 0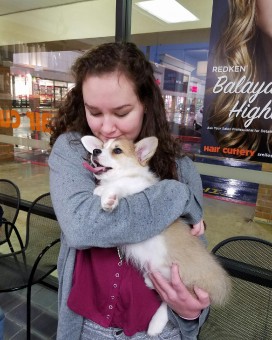 Volunteering comes in all forms. For me, it's hard to choose just
one way to give back. I have volunteered at a local homeless shelter.
I have volunteered at a church's food pantry. I have worked with
charitable organizations such as Finish Sarcoma. But the area that I
choose to volunteer in the most, the area that makes my heart sing,
is working with children. From working with Kids Helping Hopkins to
babysitting elementary school students who are at school after most
teachers have left, I aspire to help and reach as many kids as
possible.
Quantifying my service is a difficult task. From my volunteering with
the Student Summer Reading Program at my local library alone, I have
obtained over 200 hours of service. However, I tend not to keep
meticulous track of everything I do. It's not about me, or the
hours I dedicate. It's about the children I'm helping.
The children I am working with dictate what my responsibilities are.
Because I volunteer in so many different outlets, my responsibilities
vary. From making sure the children have dinner, to ensuring that
they read 10 books a summer, to putting smiles on their faces while
they're in the hospital, I will take on any responsibility asked of
me. Every child is different. They all require different attention
and dedication. My responsibility will always be to ensure that I
have attended to their needs.
I believe children deserve so much of my time and attention because
they are our future. When I am old, they will be my doctors and
neighbors and people helping me cross the street. We must provide
children with support and guidance to help them blossom into the best
versions of themselves. That is why I helped start a program at my
local elementary school, where my friend and I involved fifth graders
in workshops that taught them about the importance of social
responsibility, volunteering, kindness, and much more! Watching
students learn and express their already vast knowledge has been the
most gratifying part of volunteering.
I have learned more than I could share in 500 words through
volunteering with children. If I had to choose just one lesson, it
would definitely be about selflessness. By working with children, I
get to talk and worry less about myself, and spend more time
collaborating with kids and their bright minds. I no longer worry
about every inconvenience in my life, nor do I feel obligated to
share my every thought on social media. Instead, I focus on who's
life I can positively impact.
My future career is not necessarily oriented around children. I want
to go into international business, which will not ensure much
interaction with kids. However, I hope my volunteering will inspire
others. I hope my legacy of child-oriented volunteering will continue
on. This way, the adults I encounter in my career will have been
supported as children, and they will already be thriving in
adulthood. Helping children helps the future of our world.