Name: Morgan Stoltz
From: Florence, Montana
Grade: 12th grade
School: University of Montana
Votes: 0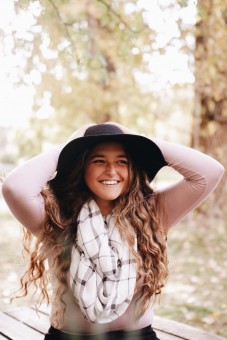 When I first got involved in a youth sports program I didn't think about my
volunteer hours, I wasn't seeking hours from some greater reward. I
started volunteering out of love.
I fell in love with this hockey team in my hometown, wanting to do anything to show
them appreciation. I made the entire hockey team these personal
posters that I made on photoshop on the school computers. Eventually,
that love only multiplied. The owner's health started to decrease
rapidly, by the time hockey season came back around he wasn't doing
any better. While I'm not naturally a leader, if I see a position
that needs to be filled I will do it. I felt this gut instinct that I
needed to speak up and tell them I would be involved. I pushed this
for a while before someone in the organization reached out to me and
asked if I would like a task for that weekend, I enthusiastically
said yes. Through the hockey season, September to March, I earned 54
hours of volunteering. I showed up at the rink at 5:45, an hour and
forty-five minutes before game time. I would set up the merchandise
booth, the chuck-a-puck stand, and the bars. On certain nights I
would need to run the broadcast camera or goal light during the game
which would give me about 5 hours per game of volunteering hours. I
really wish I could've done more than set up. There's a lot of
parts to making sure a hockey game goes well before the boys hit the
ice. I think the biggest challenge for me was to work around all the
people coming into the rink. We had to carry boxes and boxes of
clothes and beer which would be hard to navigate around large groups.
And often, younger teams like Bantam and squirt were playing until
6:30 which would delay set up for us. We rolled with the punches
because we are all a community no matter what level of hockey but
that was the only real challenge.
Looking back at what I've contributed, the biggest reward is knowing that the owner and his
wife felt less stress from running the hockey organization because
they could rely on me and my family to help them out come game time.
I saw that impact throughout the season and that is what made me want
to keep coming and doing my part. It was no trouble showing up a
little earlier than I regularly would, use my able body to move a few
things and set up merchandise, and take the stress off the owners. I
don't think that you need to be anyone special to do something like
this, from the movie Robots I think the quote "see a need, fill a
need" is perfect for my attitude towards volunteering.
I started volunteering for this organization in September. I had decided I
wanted to be a graphic designer, but because I've grown so close to the team, I knew I
wanted to be closer to the bench in a career. That is why I chose
exercise science to become a strength and conditioning coach for
hockey. And since I care so much about young athletes I want to
intern at a physical therapist's office to handle injured players
properly. I think with anything I love I'll want to be a part of it
regardless because it pays off in experience and happiness. I see
this developing in the future with me getting more and more involved,
taking on a bigger responsibility, and maybe reaching out to bigger
organizations or leagues.
While it's not serving soup or making blankets, I think that making life a little
easier for people in need and that is the biggest payoff and the change I hope to see in the
world. If everyone felt passionate enough about a subject to
completely divulge themselves in it, this world would have an equal
spread of tasks and helpfulness. I wouldn't call myself selfless by
any means, I believe I love something enough to make a change little
by little and that's what matters, not your hours, not how many
places or people you helped, just what change you believe matters.
Volunteering is a weird thing because it doesn't have tangible
results, it's all abstract but it is the key to happiness,
scientifically proven. I don't believe that my efforts have a
long-lasting effect that you can see, or even feel, but I know that
many people will remember the work that I put in and I know I did a
good thing that I will remember for years to come.