Name: Thomas Tate
From: Mascoutah, Illinois
Grade: High School Senior
School: The Citadel: The Military College of South Carolina
Votes: 0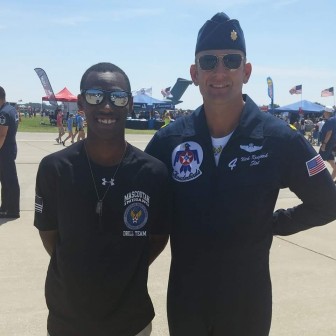 Making a Difference in the Sport of the Arts
The majority of my volunteer work has been mainly centered around my high
school's color/winter guard. I started volunteering for the guard
during the middle portion of my sophomore year. I worked as a member
of the floor crew for the winter guard portion of the season. To give
a little bit of background color guard is usually in the Fall as the
color guard performs with the marching band; winter guard season is
during the Winter and into the Spring and is done indoors. I started
volunteering for the guard because I was interested in learning more
about the activity. I had already interacted with the guard being a
standing member of the marching band; however I never was able to
fully grasp the concepts of guard by being on the outside looking in.
So I asked the director if I could be a member of floor crew and
after a few days of shadowing and trials I was made an official
member. Working as a member of floor crew got me about 9 volunteer
hours per week, but during competition days I would usually get
double that. Overnight trips to faraway competitions are a different
story, because all of my time is spent with the guard regardless; but
the average overnight trip typically yields a 16-17 hour day.
Working as a member of floor crew consisted of several tasks and
responsibilities. These responsibilities include but are not limited
to the management of the tarp and props, operating the music for the
show, looking after the storage room, cataloging the equipment and
supplies, or putting on a uniform to fill in a spot the show due to
missing persons. My biggest challenge in volunteering for the guard
took place during my senior year in high school when we decided to
use a lighting system on the props. However, the lights were not
always reliable, many times during or before a show they never worked
properly. It even got to the point were I had to create a makeshift
conductor for the light battery just minutes before a show. The
biggest satisfaction that I have had with the guard is putting away
the tarp at the end of a successful season. I have learned to never
get too frustrated with things if you cannot control them.
The work that I have done with the guard have sharpened my organizational
skills something that I will take into my career. My work with the
guard have made me a better person for the future. "Forward
looking" to me means to never look back on mistakes when you make
them and keep moving forward. I plan to make a difference in the
world by carrying my philosophy for helping people. If I were to
comeback in a ten years I will have made a difference with creating a
new position for the guard known as "Q" or "Quartermaster".