Name: HARRY J FRIEDMAN
From: Homestead, Florida
Grade: 12
School: Santa Fe College
Votes: 0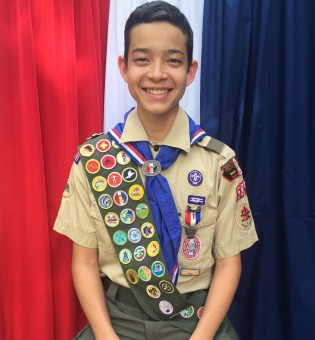 As a
life-long Boy Scout, I have always volunteered and been active in the
welfare of my community. Most significantly, as an Eagle Scout
Candidate in 2016, I built a community garden, which continues to
feed the homeless and those in need in my local community. It is
only the second such community garden in Monroe County. My Plan was
to create this community garden on the grounds of the Keys Jewish
Community Center, which has an established committee of volunteers
who now maintain and operate this community garden throughout the
year. The KJCC is adjacent to the Burton Memorial Church's Food Bank
distribution system, which has been operating for many years and
serves the upper county residents who are homeless or in need. An
important part of my Plan was to provide the vegetables that are
grown and produced by the community garden to the already in-place
Burton's Food Bank distribution system. Both Burton and KJCC have
been able to add the freshly grown produce, mostly vegetables, to the
local community for a little over two years now. My Plan was that
this would be an ongoing and perpetual project, contributing
something valuable to my community and those less fortunate. I am
proud to say, it is and it appears it will continue to be a fantastic
success. It works!
That
said, I am not done. Florida has 67 counties. I would like to
create a network and system of at least one community garden in each
county throughout the State of Florida, and use my Monroe County
community garden as the model. The planning, design, coordination,
organizing, and building supervision was mine, the labor was provided
by my Boy Scout Troop 588 of Key Largo, and the already in-place good
hearts and souls are from the congregants of both Burton Memorial
Church and the KJCC. However, the Troop and I had to do fundraisers
and seek donations of both money and materials to make this happen.
The community garden is a semi-permanent structure, with heavy duty
concrete blocks, several tons of soil and fertilizers, and required
tools and equipment to construct. Thanks to the generosity of Cemex
International, Redland Trucking, and Lowes Home Improvement, it all
came together.
This
entire project took several months from my initial vision to the
first planting. I learned quite a lot, from construction techniques,
to organizing and supervising work and labor, to coordinating with
business owners and local county authorities. I spent several
hundred hours, but in comparison to all my efforts throughout my Boy
Scout experience since Age 6, it has definitely been the most
rewarding.
As
you can see, I have a deep and personal preference, that our fellow
people should not go hungry.