Name: Daniel Naqui
From: Cape Coral, Florida
Grade: 11th
School: Cape Coral High School
Votes: 89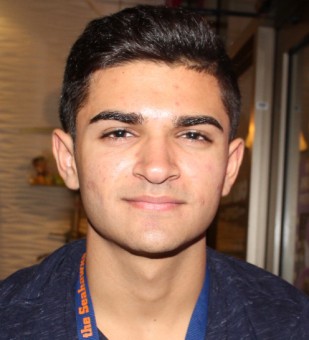 When
my junior year first began, I initially had gym class for my 6th
period for the 2nd semester of the school year. However, after
hearing about a brand new class called Seahawks Buddies, I decided to
start my second semester as one of the only students to enroll in it.
Seahawks Buddies students dedicate an 84 minute period every other
day to helping students with disabilities in their classroom learning
experience. In Florida, these students are a part of the Exceptional
Student Education (ESE) Program. I chose this class because my
brother, Adam has Asperger's Syndrome and I felt that it was my
duty to help these other kids with their learning in any way I could.
At
first, I was hesitant to be a Seahawk Buddy because I wasn't sure
if I was going to have the patience to help each several different
students with their unique learning disabilities. My biggest worry
was how I was going to get them to cooperate with me, a complete
stranger. However, I quickly found out that I was a class favorite.
By eating lunch with the kids and getting to know them not just as a
classroom assistant, but as their friend, I was able to figure out
how each of their personalities would fit into a learning situation.
I helped guide them through their worksheets and reading materials
and If they ever needed any help, I was right there for them. This
was a great tactic because it gave the students a one-on-one learning
opportunity while the teacher could continue helping multiple other
students.
My
volunteer work is forward working because I currently plan on
becoming a family doctor. If I were to ever have a child come in who
has a disability, I would have a better understanding for how that
child may react to certain treatments and interactions with me. With
that being said, this experience has been useful regardless of what
my future occupation may be. If I ever have an encounter with a child
with a disability in the future, I now know how to properly handle
myself so that I can make the child feel comfortable. I hope that
more of our fellow youth would pay attention to the struggles that
students with disabilities carry and provide the help that they need.
I believe that there is a place for each of these students in our
world and that they can contribute positively to our society in
numerous ways. If they have the resources available to them, they can
definitely accomplish great things. I hope that in the decades to
come, children with disabilities have more opportunities to succeed
than they do in the present. I also hope I see each one of them
living a long and happy life.
I'm
so thankful for the opportunity to volunteer for these kids and to
have had made some great friendships that I will cherish for the rest
of my life.