Name: Alyssa Taylor Williams
From: longwood, Florida
Grade: sophomore
School: simplemickey123@hotmail.com
Votes: 0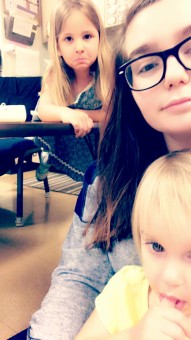 The area I have chosen to volunteer is working with the young kids in a religious
setting. I chose this because I love working with kids and I think
they should have a good role model and learn the basic morals
(religious or not) that will shape them into outstanding members of
their community.
This summer (2018) I have volunteered about 50 hours.
My responsibilities as a volunteer were to supervise children while
eating, playing outside, doing arts and crafts, and read them parts
of the bible and teach them what it means to be a good Samaritan.
My biggest challenge as a volunteer has been trying to give every child my
attention at once. I work with groups of at least 12 so it becomes a
challenge to make sure every child has my attention at all times.
When a kid comes up to me and says "you are my favorite" and when they enjoy
talking to me and beg to be in my group instead of another's give
me the most satisfaction as a volunteer.
I learned from my volunteer position that children are easily distracted and can have
wild imaginations and can say some wildly inappropriate things, but
also that I love working with children.
My interests and career goals are nowhere near related to my volunteering as a youth
counselor. I want to be a biomedical engineer; but I plan on working
in a daycare while in college.
Looking towards the future, I see my activities as "forward looking" because they
are helping me learn responsibility for others, it's teaching me
how to teach and work with young minds and as a counselor it teaches
me time management.
The changes I seek to foster in the world with my volunteering is helping the young
kids I work with how to love, respect, and learn with others. I hope
that they will grow up to be more accepting to others who are
different than them and avoid the riots we are having now.
Yes I think that if I were to come back in ten, twenty, or even thirty, years I think
my volunteer activities would have "made a difference". I think
the kids will continue to learn to be good Samaritans and help those
in their community the way they are watching myself and other
volunteers do.
In conclusion, I don't volunteer just because it's a graduation requirement; but
because I enjoy helping people. My goal is to start volunteering at
the hospital near me and to continue to volunteer as a youth
counselor working with kids and to also volunteer with "teen court"
on Tuesdays. Volunteering is my way of reminding the people around me
that there is still good selfless people left in the world.