Name: Brianna Saylor
From: Knoxville, TN
Grade: 11
School: Hardin Valley Academy
Votes: 0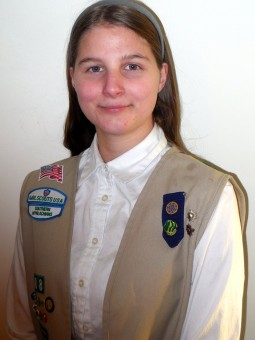 The
Earth contains dozens of ecosystems each teaming with its own, unique
life. For me, learning about the complexities of the natural world
fascinates me and since I was little has directed my actions to
volunteer and jumpstart my career as a protector and teacher of the
environment.
One
of my first big projects began as my Silver Award in Girl Scouts. I
coordinated the help of the Tennessee Izaak Walton League and several
local clubs throughout my project. Together, we completed several
projects in the Turkey Creek Wetlands such as filling twenty large
trash bags with litter and making a trail accessible to more people.
I also drew information cards about native flora and fauna which was
placed on an information kiosk. Then, for my Gold Award, I worked
with Zoo Knoxville and a retired teacher to develop a lesson plan
that would teach kids for years to come about the amazing adaptations
of animals and the importance of protecting these animals and their
homes. The combined hours for these projects is about one hundred and
thirty.
After
completing the project, I became a regular volunteer at Zoo
Knoxville. Here I could learn about and work with animals from all
around the world and share my passion with guests. Likewise, it was
invigorating being able to educate guests about animals and see a
similar passion. One of my favorite activities is animal
interpretation. Being able to hold a hedgehog or box turtle in my
hands and see the eyes of guests light up when they came near.
Another favorite activity is volunteering at the bird show. Here I am
able to watch, listen, and learn about birds surrounding me. I can
learn the different personalities of each bird and how best to take
care of them- from macaws, to owls, as well as many others.
Additionally, I volunteer with zoo camp, the giraffe feeding
platform, and mother other opportunities throughout the zoo.
Whichever position I am volunteering in, each one I educate guests
about the natural world.To date, I have about three hundred life
service hours.
This
past year, I partnered with a Tennessee 4H educator who works at the
University of Tennessee to co write and publish a lesson plan for
Tennessee 4H. The lesson teaches 4th and 5th graders about animal
adaptations and the significance of conservation and can be used
across the nation.
My
many volunteer activities allow me to look forward – being able to
imagine the future based on a current position. Each project and
activity allows me to narrow down what I want to do twenty years from
now. Whichever field I choose though, I hope to be able to nurture
the environment and to teach people about its wonders. When I look
back twenty years from now, I can see my projects having taught the
next generation how to be good environmental stewards and by
inspiring a new generation of volunteers.