Name: Emma Trickey-Wazny
From: Millington, Michigan
Grade: High School Senior
School: Millington High School
Votes: 172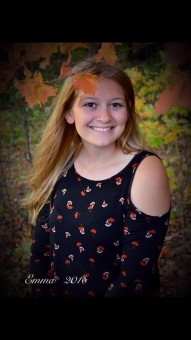 From a young age, my
two moms had decided to take over my community's youth football
program. If they had not stepped up and taken this honorable
commitment, the whole program would have had to been shut down,
leaving hundreds of elementary school girls and boys (football
players and cheerleaders) deprived of the amazing experience that is
youth football and cheerleading. My twin brother and I had to help my
moms with the different aspects that came along with running the
entire organization. Now that I am in college, I still help my moms
with concessions and ticket collecting whenever I have the chance to
come home. In high school, I was the President of Student Council and
National Honor Society, the Team Leader of my TARC (Team America
Rockery Challenge) team, the captain of the cheerleading team, and
Section Leader of the trumpet section. All of these student
organizations had community service requirements that had to be
fulfilled, but as a prominent member all of them, I was held to a
much higher standard. Even though the community service was a
requirement, I was always looking forward to the different activities
that we would do. For cheerleading, the entire team would host a dunk
tank and face painting booth for the children of our town. One of the
community service projects I did as a member of National Honor
Society was tutor an elementary school student for the two years that
I was a part of National Honor Society. Every day I would go to the
elementary school right after school and tutor the student for an
hour until I had to go to cheerleading practice. In Student Council,
every Christmas season we did an event called "Adopt-A-Family"
where we would raise money and presents for the underprivileged
families in our community. I was in charge of this event for three
years. It was my job to organize the committees for each aspect of
the event, ensure that committees was staying on track, and run the
distribution of the gifts to the families. Now that I am in college,
I am a member of my college's, Bowling Green State University, Circle
K Club. Circle K is the college version of a worldwide service
organization, Kiwanis Club. Our Circle K Club has partnered "Food
For Thought" to distribute sack lunches to the people of Toledo
and we most recently set up a table for a trick-or-treat event that
was hosted by a home for adults with mental disabilities. We set up a
table for the residents to come by and collect candy. Local families
could also join in the festivities and trick-or-treat with the
residents. Two of my roommates were so intrigued by the idea that
they decided to come along and participate. My whole life I have been
constantly a part of some sort of community service project. This has
majorly influenced my life and is part of the reason I want to become
a therapist as my career.