Name: Kira Golub
From: Horsham, PA
Grade: Junior
School: Hatboro-Horsham High School and Indiana University of Pennsylvania
Votes: 14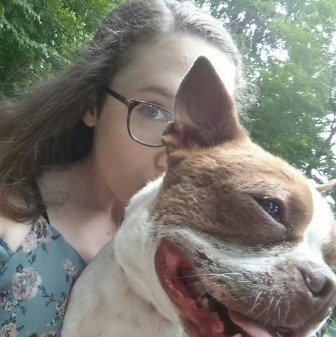 When
I say I cannot remember a time before I starting volunteering, I am
not exaggerating. At eleven years old, I suffered a head injury. The
injury left me incapable of completing basic tasks for roughly six
months. The summer was ending and I was still not able to go to
school and the boredom hit me like a Mack truck. I have had a
fascination with animals since I was a little kid and all I wanted to
do was help them. I went searching for a rescue that would allow
minors. Success arrived when Jeannie, the volunteer coordinator at a
local rescue, responded. Dog rescue was my first experience
volunteering. Rescue consumed the next six years of my life starting
with the basics of cleaning up and walking the dogs at events to
processing adoptions and helping manage the rescue itself. I would
spend every Sunday working for twelve straight hours; the day started
with unloading trucks full of animals, feeding, cleaning, and running
a four-hour adoption event before the sun went down. As I got older,
I started taking on more of the paperwork responsibilities and
processing applications during free periods at school. The volunteer
work gave me exposure to adults from all different backgrounds and
helped me find my future path.
When
I turned fifteen, I looked for another way to help animals, something
that felt less like putting a bandage on an amputee. I met with my
State Representative and he gave me the contact information for the
PA State Director of HSUS. I started volunteering for HSUS shortly
after and became the youngest intern the organization has ever taken
on. This work looks at animal cruelty issues as systemic cruelty that
needs to change from a legislative and advocacy standpoint.
Throughout my few years with HSUS, I have written grant proposals,
lobbied at both the state and U.S. capitols, helped increase
efficiency within the organization, and directly influenced new
legislation. I am graduating early from high school and have a full
time job lined up with AAVS, the largest organization against animal
testing.
"Forward
looking" in the type of volunteer work I do means working towards
long-term sustainable change versus quick fixes that make everyone
feel better about larger problems. Getting to experience the hands on
side of animal protection as well as the policy side of things gives
me a unique perspective in long-term change and trying to last the
marathon and not just completing a sprint. There is nothing more
inspiring than seeing a successful adoption or a bill pass into law,
but there is also nothing more discouraging than having to accept
losing an animal or pushing back a project because the social climate
is not ready for change. I know deep down that even if I do not
succeed at ending animal cruelty in my lifetime, which is the
ultimate goal, that every dog, horse, cat, and pig that I saved from
death row was worth it all.