Name: Abigail Leyson
From: Stamford, CT
Grade: High School Senior
School: Convent of the Sacred Heart
Votes: 0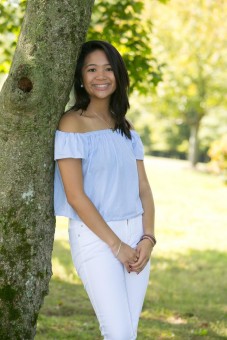 Lourdes,
France, a well-known Catholic destination for pilgrims, in the hopes
of experiencing a miracle and being in the grotto, where Our Lady
visited St. Bernadette. For me, I experienced a different type of
miracle. I was given the opportunity to travel to Lourdes as a
pilgrim and volunteer for ten days in mid-July. Once I accepted to be
a part of this experience, I quickly learned that my domain would not
only be the Church, but the hospital where my main priority was: the
pilgrims. I volunteered to help the elderly, sick, and disabled from
5am to 11pm every day. I would assist during meals by serving food
and feeding those that could not feed themselves. Additionally, I was
responsible for late night shifts in the hospital, where I would stay
up until 6am in case there was an emergency in a pilgrim's room.
Volunteering late at night was tedious because it required willpower
to stay up after a long day of work, but it was also worth all of the
late-night conversations I shared with the pilgrims over a cup of a
tea if they could not sleep.

Initially, the most difficult
task was being able to converse maturely with disabled pilgrims. When
I met the pilgrims, I was overwhelmed by their conditions which
hindered me from being myself, but after I encountered a disabled
woman quite similar to myself, I discovered that the pilgrims on this
trip were not different from myself. This discovery relates to the
biggest satisfaction I received. I was speaking to the same disabled
woman as we were outside of the baths, a religious experience of
Lourdes, and we were talking about how unique the pilgrimage has been
for us. Me, being a Catholic and volunteer and her, being in an
Anglican and an independent woman in a wheelchair. Despite our
differences, we had similar views and takeaways from our time in
Lourdes. I told her the initial reason I applied was to see if I
truly wanted to pursue a medical career. She asked me, "Did this
help confirm if this is the direction you want your life to take?"
I simply nodded as she took my hand in hers. This pilgrimage
motivated me to pursue a career in the medical field, specifically
occupational therapy so I may continue to work with the disabled and
help them feel more able and independent. Not only was I motivated to
pursue a medical career, but I also used it as my inspiration to
spread awareness about ableism as my senior research project. I began
a Twitter page to spread news about advances in the disabled
community and continued to volunteer in nursing homes, only to return
to Lourdes the next summer to reconnect with pilgrims I befriended
the year before. This experience allowed me to look towards the
future, hoping that the future consists of accepting the disabled as
a part of our community instead of treating them as a minority and
afterthought.