Name: Dylan Daniels
From: Philadelphia, Pennsylvania
Grade: 12th
School: Archbishop Ryan High School
Votes: 0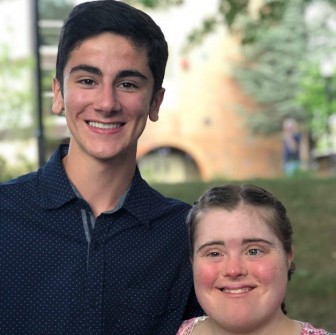 One of the most amazing experiences I have had in my life occurred this past summer. It is
very common for teenagers to be camp counselors. In fact, I was a
camp counselor for a week in July. However, there was something very
unique that set this camp apart from the usual sleepaway camp. The
camp where I volunteered as a counselor is called Camp PALS, whose
campers all are people with Down syndrome. At PALS, you are paired up
one-on-one with a camper with Down Syndrome, who will soon not only
be your roommate for the week, to you but a true friend for life.
I was a counselor at Camp PALS Poconos this year and my camper's name was Nick. Nick is a
21-year-old guy who just recently finished school and now works at an
equipment renting company. He lives with his parents, two sisters,
and his dog Peanut. Camp PALS Poconos was a new experience for Nick
and I, but as I found out, Nick is no rookie to the PALS camps. He
had attended five other PALS camps over the past 7 years located all
over the country.
As this week was nearing, I was not completely sure what I was getting myself into, but based on
what my friends who had been counselors before told me, it would be
an unforgettable experience. The amazing week I spent with Nick, the
other campers, and my fellow volunteers is almost too hard to
describe. I was overwhelmed with feelings of positivity and happiness
during this week-long experience. Spending time at PALS was indeed a
life-changing.
During the week, I spent time with some of the most genuine and kind people I have ever met.
Campers and volunteers alike came from all over the country to be
involved with this organization. The positive energy was contagious
and it affected everyone that was at camp. I was inspired to be the
most genuine version of myself and I formed friendships with people
that I know will last a lifetime.
The overall feeling of acceptance and inclusion at camp was unforgettable as well. It is
hard to find a place where you are fully accepted for exactly who you
are, but PALS is definitely that place. No matter who you are, where
you come from, or even how many copies of the 21st chromosome you
have, every single person is accepted with open arms and treated with
the respect that every person deserves.
After a week full of the most fun I have ever had, I left camp changed in the best ways possible. I
live more inspired every day with an attitude of acceptance. No
matter how different someone seems, every person has something to
teach you to help make you the best version of yourself. Everyone
brings uniqueness to the world that is irreplaceable. I have learned
the true value of kindness and genuineness. I have learned that
friendship is more special and more powerful than I sometimes think
about.
Looking back, I have a changed understanding of people with special needs. This change is simple.
People with special needs are the same as people without them. I will
never let someone's disability stop me from being someone's friend,
and I am lucky to be able to know the amazing friendship of people
just like Nick.