Name: Elyse Steklenski
From: Souderton, PA
Grade: Senior
School: Souderton Area High School
Votes: 0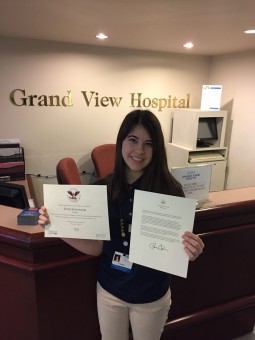 An
Uncommon Bond
"I
wish you were my daughter" — those words took me aback as
Maggie's usual rebellious eyes were soft with sincerity.
I
was both surprised and touched, as I loved Maggie, a resident at
the nursing home where I work, because she reminds me of my feisty
Grandma who recently passed away.
Maggie
looked forward to my companionship as much as I looked forward
to hers. She was the perfect compliment for my reserved nature.
Our
conversations filled the void of her loneliness and her antics made
me laugh. Our friendship made her more willing to participate in
activities that she once declined.
I
may have not applied for my nursing home position if it was not for
the satisfaction
that I got from my volunteer work.
Serving others is a
way of life for me. I've volunteered since I was 10 years and
eventually joined the VolunTeen program at Grandview Hospital when I
was 14.
My
volunteer work encompassed both clinical and non-clinical settings
for 3-5 hours/week. Over the summer, I've helped at the Outpatient
Center and in the Physical Therapy departments, filing and performing
other clerical duties. This past summer, I was entrusted to work with
hospital employees to assemble surgical supply kits.
I
volunteer once a week during the rest of the year in the main
hospital assisting hospital staff, cleaning, creating intake packets
and serving patients. I expanded on my service by coordinating 2
extension projects in partnership with my high school — a toy drive
to benefit the Pediatric Department last year followed by a holiday
card drive this year (~15 hours/year).
This
work strengthens our community in many ways. It allows
nurses and hospital staff to focus on more critical parts of their
job. We are providing a friendly face to patients and their families
during a potentially difficult time in their lives. I've witnessed,
first hand, how my grandparents' usual jovial personalities were
replaced by a sense of fear and loneliness during a hospital stay so
I know my presence as a VolunTeen makes a difference.
The
satisfaction of my patient interaction far outweighs any downside.
The biggest challenge that I overcame was when the nurses become
tense about their workload. I learned not to take it personally but
as an opportunity to help.

Volunteering
is an experience that will stay with me forever. The sense of
fulfillment that comes with helping others and making a difference
are enduring and have become part of my core values.
Getting
involved in community service not only makes an impact — but
it also provides a broader worldview, cultivates an open mind and
fosters empathy for others.
My
volunteer work shaped my job selection, educational outlook and
career goals. I
plan to continue my volunteerism when I begin college as I selected a
university that embodies a culture of service. I plan to apply my
statistics major to the healthcare industry as a Biostatistician.
.