Name: Joseph Sorgi
From: Sterling Heights, MI
Grade: 10
School: Henry Ford II High School
Votes: 0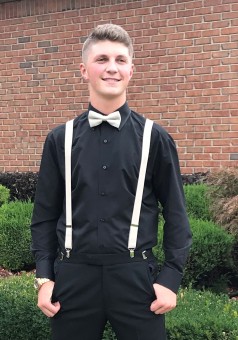 Joseph Sorgi
Henry Ford II High School

Bald is Beautiful – Helping Kids with Cancer
In second grade, I broke my arm playing basketball. The doctor that
took care of me had a young son with brain cancer. To say thank-you
for being kind, I joined his fundraising group and participated in
the local St Baldrick's Foundation event. Each year, they host an
event where volunteers shave their heads to raise money to "Conquer
Childhood Cancer". I shaved my head and raised over $300 that
first year.
When I got to 7th grade, I wanted to get more involved in volunteering and community
service. I went to one of my teachers who helped me create "Team
Bemis". This is a team of Bemis Junior High School kids (and
principal) that all participated in the St. Baldrick's event and
shaved their heads and/or volunteered to help raise money. Team
Bemis is still going, and we have contributed over $18,500 in the
last four years. I am still active and have raised nearly $2,000 on
my own.
This year, as a new member of the National Honor Society at my high
school, I have talked to my NHS advisor and we hope to get students
in the high school to join Team Bemis to help raise even more money.
I plan to act as a leader to facilitate the program into the high
school and continue to grow the program.
In addition to my involvement with St. Baldrick's, my sisters and I
coordinate a blanket drive each year to honor their friend, Stefan
who lost his battle to cancer when he was seventeen. In the four
years we have done our blanket drive, we have involved many people in
our school and community and have donated over 600 blankets to C.S.
Mott Children's Hospital in Ann Arbor. We facilitate our blanket
drive near the holidays and encourage different groups to donate and
make blankets in lieu of a gift exchange. We travel to Ann Arbor and
deliver the blankets the week before Christmas. Each child is given
a blanket as part of their Christmas morning gift and the rest are
given out as part of the admission process. Our hope is that the
homemade blanket provides a sense of comfort and lets them know that
someone is thinking of them.
I have known a few kids who have battled cancer and I can't even
imagine the courage and strength it takes to battle that illness. I
am so proud that I have found a couple different ways to help sick
children. Between St. Baldrick's and the blanket drive, I estimate
that I spend 30-40 hours per year volunteering. What I'm most
proud of is that both initiatives should continue after I graduate
from high school. Over the years, we have gotten enough school
groups, teachers, and advisors involved and I believe these programs
will continue even if I'm no longer at the schools.
I don't know what it will take to "conquer childhood cancer" but
I'm very proud of the contributions I've been able to make.