Name: Eden Skipper
From: Deatsville, AL
Grade: 12th
School: Prattville Christian Academy
Votes: 0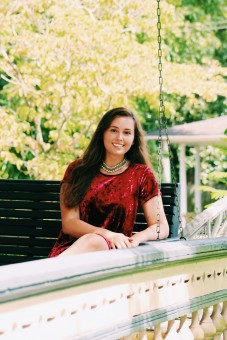 Eden
Skipper
December
13, 2018
Bibliophile

I
currently have 356 books in my room. My three bookshelves are
brimming with books. Mountains of books are scattered all over the
floor, on my desk, and all over my house. They are even
color-coordinated. I am what you call a bibliophile, or someone
obsessed with books. I have always been an avid reader, preferring to
live in the pages of stories rather than reality. In October of my
sophomore year of high school, my English teacher, Mrs. Bradford,
presented Genius Hour to my class. Genius Hour was a project where I
got to explore my passions and integrate them into helping my
community. I immediately knew I wanted to do something with reading.
I went to my school counselor and proposed the idea of holding a
book-drive for the Montgomery Library during homecoming week.
Students could dress up during homecoming week in exchange for
bringing in a book. My counselor and principal supported my project
and everything fell into place.
I
delved into organizing everything and coordinating when, where, and
how to transport the books. I was speechless when I counted all the
books. With the help of my teachers and classmates, I collected 1,156
books to donate, promoting literacy in my community. I was the only
one in the sophomore class who followed through with their project
and met their goals. It was a reminder that I can accomplish amazing
things when I am passionate and committed to my ambitions.
Along
with the push of Genius Hour, my school also requires each student to
earn a certain amount of service hours for graduation. As an
introvert by nature, this encouraged me to get out of my comfort
zone. I applied to volunteer at the Autauga-Prattville Public
Library. Twice a week I am in my own personal utopia surrounded by
books while helping out my community. My supervisors are the most
kind, humble, and hard-working people I have ever met. I have learned
the importance of punctuality, diligence, and efficiency. I have also
learned to always stay hydrated while shelving books for multiple
hours. Volunteering at the library created a desire to help them
raise money for a new roof due to severe leaking and damage from the
rain. They deserved it. Organizing the book-drive and volunteering at
the library taught me to always work hard and to work even harder for
things I am passionate about.
I
used to connote the word "leader" with someone who is
charismatic, talkative, and in the spotlight. I tended to reject the
idea that I could be a leader because I do not fit that description.
I am reserved and generally quiet. I am not the cookie-cutter
definition of a leader, but I do not have to be. I have soft power. I
can focus on listening to the needs of others and start working to
create solutions instead of wasting air talking mindlessly. If I have
passion, inspiration, and a work ethic I can be still be a successful
leader.