Name: Samuel Mishler
From: Minneapolis , Minnesota
Grade: Freshman
School: University of Minnesota
Votes: 0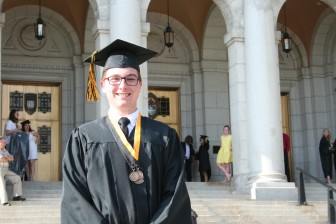 Domestic and Global Service: Personal and Communal Enrichment
I feel that community service and volunteerism is an important aspect
of citizenship to one's country and community. When I volunteer, I
feel it makes me ever more grateful for the privileges and
opportunities I have been given thus far in my life, and also
challenges me to seek to new ways of understanding in myself and
those around me. While
I feel that academic scholarship, extra-curricular activities, and
family and friends have greatly influenced my story as a high school
student, I also feel that an important role was played by community
service. I value a sense of giving back for the privileges I have
been enriched with and I feel that a great way to connect with others
is through community service.
I
have been active in my school, and church community in a variety of
ways. I helped at my high school with various admissions and
developmental events as an ambassador and representative of my
school. Additionally, I worked and later helped to lead a dance and
social hour for members of our community with various mental and
physical disabilities. This experience was extremely powerful and
enriching because of the ability and opportunity to help members of
our community with special needs, and also learn from them about new
perspectives on life and its many dimensions.
Throughout the
duration of my high school experience, I
completed approximately 80 hours of community service as a graduation
requirement. Many of these hours were completed in various events
for youth ministries and service with my church, where I worked with
several non-profit organizations throughout the Twin Cities area. One
of the organizations that I spent the most time with was Feed My
Starving Children, a non-profit that works to fight world hunger by
sending packaged meals to underprivileged nations. While these
service opportunities were a bit mentally challenging to complete
because there wasn't a direct result in our local community, I knew
the work I was doing was making an important impact for many families
that were dependent on Feed My Starving Children for nourishment
across the globe. I also went on a weeklong, hometown mission trip to
various service sites across my own community in Minneapolis. This
trip was particularly special for me because I was able to work with
various non-profits that I reconnected with after the trip.
Hospitality House was an important organization for my continued
service efforts as I worked at their facilities both on the trip and
in the following summer. I also developed a sense for global service
beyond Feed My Starving Children, in which I took a trip to Bolivia
to study public health and help research and volunteer at various
organizations abroad to solve a multitude of issues from sex
trafficking to global poverty and hunger. Volunteering has taught me
that I should serve others in a way that not only enriches the
community but also allows myself to gain new perspectives and
understandings about our world.