Name: Mairead Hoye
From: Medway , MA
Grade: 12
School: Medway High School
Votes: 0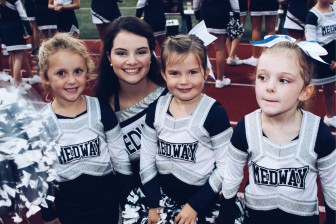 Mairead
Hoye
Dying
Out
It
was a warm September night at my high school's football field.
Oversized photographs of each of the senior cheerleaders line the
fence. The game has ended, and as I start to exit the field I see a
big crowd of young girls hovering in one spot by the posters. My
younger brother runs up to me and says, "Mairead, they are petting
your poster like a dog." I walk toward the crowd to see what's
going on, and I see them fighting over a spot next to my poster and
screaming "I want to be her when I grow up!"
I
know these girls well. Over the past four years I have been a
volunteer student demonstrator for the youth cheerleading program.
While attending high school practices for my own team, I also lead
the youth practices, choreograph their routines and create music
mixes for their team competitions.
Being
a student demonstrator takes a level of authority and maturity that I
actually didn't realize I have. I assume it's like being a
parent…teaching children how to behave, evaluating their
performance, setting rules, and teaching them to stand
still.
It requires a lot of yelling, but somehow you still have to make sure
they like you. Even more importantly, you need them to respect you.
A
lot of people ask why I take on all this when I am already so busy.
The answer is easy; I love a challenge, and I love helping others.
The fact that I love cheerleading and am passionate about growing the
cheerleading program in my community makes the decision even easier.
My
goal has been to create a fun and open environment that encourages
the youth cheerleaders to become high school cheerleaders. I am proud
to have become known in my community as a liaison between the youth
and high school cheerleading teams because of my ability to create
new and fun events that encourage bonding between these teams. I
coordinated two successful youth camps run by the high school
cheerleading team. Not only did this raise over $2000 for both
programs, but it influenced many more girls to join the cheerleading
program.
Volunteering
in my community has shaped who I am today. It helped me build strong
connections, trust, confidence, and most of all, respect. I am happy
that my work has influenced others and am happy to see the younger
girls fall in love with a sport just like I did. I intend to use my
talent of developing unique, creative, and effective ideas to impact
my college's community.