Name: Talia LoMaglio
From: Rochester, New York
Grade: 12
School: Hilton High School
Votes: 0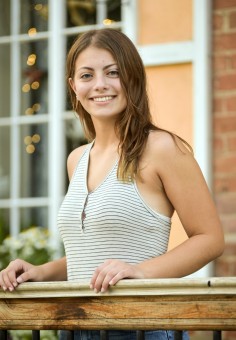 I
entered senior year more excited than any other year of highschool.
This is not only due to the fact that it is my last year, it is
because I am able to participate in a program called "New Visions",
that gives me the opportunity to volunteer in a hospital. Being able
to volunteer by helping occupational and physical therapists was
something that I was looking forward to over the summer, mainly
because these are potential fields that I wish to enter. Every week I
volunteer for 3 hours each Tuesday and Thursday, and will continue to
do so for the rest of the school year. When I'm in the hospital,
some of my responsibilities include assisting my mentors with client
care, communicating with my mentors whenever I have a question or
concern, and respecting patient confidentiality. In other words, not
disclosing any information about the patients to others, being
respectful of them, and knowing how to act around them according to
their situation. Following these expectations has taught me a higher
level of maturity and how to work with adults in a professional
setting.
One
of the most challenging things I have learned during my time
volunteering is how to interact directly with patients. prior to
being apart of this program, I didn't have any experience in this
area. As a highschool student, I've never been in a situation where
my role has been an assistant in caretaking. I now have to learn how
to provide help to those who I do not know. However, by doing this I
am gaining experience for when I pursue a career as an occupational
or physical therapist. In contrast, the most satisfying thing about
volunteering in the hospital is when I am able to make the patients
smile or enjoy themselves during an exercise. When I am able to do
this, I am glad that I can distract them from whatever issues or
worries that they may have. Furthermore, the most important thing
that I have learned by volunteering with the professionals, is that I
now know that I wish to pursue the same type of job in the future. I
look forward to working with patients, and helping them recover from
whatever they may be dealing with.
Looking
ahead, I see the activities that I do in volunteering as "forward
looking," since this experience has influenced my decision to
choose occupational therapy as my desired future career. Similarly,
the change that I wish to promote through my volunteer activities is
the mindset of patients that I interact with. I want to be able to
make them more happy and comfortable when I see them, and make them
feel like they aren't alone in what they are experiencing. In
conclusion, if I was to look back in ten years, I believe that my
volunteering would have made a difference because I was able help
people, provide rehab and relief, and possibly even brighten their
day.