Name: Vashti Overmiller
From: York, Pennsylvania
Grade: High School- Junior
School: York County School of Technology
Votes: 0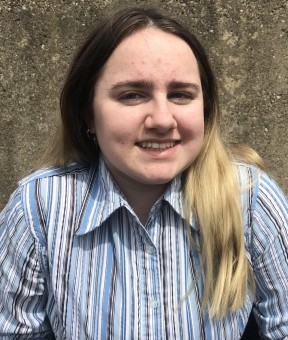 Youth
Forward Scholarship
Vashti
Overmiller
The
children of today are the adults of tomorrow. How many people do they
have to lean on? Do they have a role model to follow? These questions
are a part of the reason why I chose to volunteer at my church. As a
Sunday school teacher, I've spent two hours every Sunday for the
past five years teaching children ages five to seven about the Bible.
I plan lessons, teach, lead children's worship, and show my support
to the children. My biggest challenge in teaching is hearing about
the children's home life. It is sad to hear that some of the most
well-behaved and thankful kids are the ones who are going through the
most. What gives me satisfaction is when I get to be there for my
kids. To me, teaching Sunday school isn't strictly about the material
being taught, but about the children making new friends and having
someone to talk to if they ever need advice or help. It's amazing to
see the impact that you make on a child's life by just being there,
playing with them, and providing a good role model for them. Though I
am their teacher, these kids have taught me a lot. Through it all, I
have learned that simply being there for someone, no matter the age,
can make all the difference.
Though
my volunteer work doesn't directly align with my career goals, I
still want to help people. I want to create medical and surgical
equipment using my background in programming. My vision is to make
these new and advanced technologies less error-prone and extremely
decrease recovery time. The volunteer work that I have done doesn't
help me with programming or coming up with new ideas, but it helps me
understand the importance of leadership, patience, and the value of
helping others. In the grand scheme of things, the relationships we
build and the kindness we show to others is what lasts and matters.
Forward-looking
activities to me are activities that make an impact that goes on to
help people for generations to come. By teaching these children
morals and faith, I am making an impact on their future, and by doing
this I hope they will make an impact on the future as well. Most of
these kids are very intelligent and kind but their home life can
often push on to the wrong path. All I hope to do is encourage them
and let them know that they are important and that they are capable
of doing great things. In thirty years, I hope to meet some of my
kids that I teach now and see that they have used my class to grow
into caring and upstanding individuals themselves and continue to put
forth these values into the world.