Name: Lauren Elizabeth Wight
From: Akron, New York
Grade: Senior
School: Akron High School
Votes: 0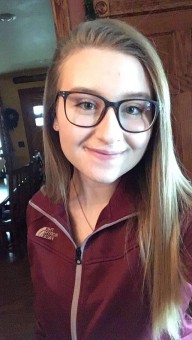 Leading
Tomorrow's Hunters

For
the past 4 years, I have volunteered as a junior leader at the New
York State Region 9 Youth Archery Camp. I attended this camp when I
was 13 years old and I had so much fun that each year, I come back to
serve as a junior leader. This camp is a totally free camp for 11-15
year old children interested in obtaining their bowhunter
certification required for bow hunting in New York State. It is a
three day camp filled with seminars such as deer dressing, bowhunter
ethics, and game calling. These seminars are woven in with fun
activities such as night shoots, relay races, and 3D hunts. Us as
leaders see the importance in teaching future generations the
tradition of bowhunting, conservation, and many other crucial skills
related to hunting. I spend three days each August actually leading
the camp however, I and my fellow leaders spend countless hours
preparing for camp by building arrows, clearing paths, repairing
equipment, and setting up camp sites. As a volunteer, I guide kids
around camp, teach classes, and oversee safety on the shooting range
during shooting practice. As a volunteer, one of my biggest
challenges was overcoming my fear of public speaking. This past year,
I decided to take on the responsibility of teaching a class. I taught
a "Bowhunter Ethics" class which was the first seminar of the
weekend. It was very scary at first, getting up in front of thirty
teens and speaking but after a little bit I was able to relax and
convey the message I was trying to teach. Year after year I gain the
most satisfaction out of seeing all the kids who were shy at first,
segregated into small groups, come out of their shell to interact
freely with the other kids and truly enjoy being out in the
wilderness for an entire weekend. At the end of the weekend the
parents of the campers are invited to a chicken barbeque and I love
seeing all the kids run to their parents, excited to tell them about
all the fun things they did over the weekend. This volunteer position
has taught me great leadership, public speaking, and responsibility
skills. At archery camp I am able to be myself, enjoying the outdoors
and working with like-minded people who all just want to convey the
tradition of bowhunting to future generations.

To
me, "looking forward" means thinking about how your actions today
will affect future generations. My volunteer service portrays this
idea perfectly because we as leaders teach kids the importance of
carrying out the tradition of bow hunting along with game management
and safety. I plan to attend college with a major in agriculture
business. Hunting and agriculture go hand in hand with each other
because game management is important to crop damage. We as hunters
manage deer population which in turn manages crop damage. My goal is
to see more kids interested in hunting and to take away the stigma
associated with hunting. Many people believe hunting is bad because
it involves killing animals when in fact, it helps keep animal
populations in check. If too many of one species of animal exists,
crops get damaged, more people hit them with their cars, and disease
is more likely to run rampant throughout the population. I definitely
think my volunteer service will leave a lasting impact on the campers
I lead every year. Archery camp is a great way for campers to make
friends and learn many important skills related to hunting that they
can pass onto their children and grandchildren. It is important to do
your part in society to make the world a better place and I chose to
do my duty in society by doing something I love: leading future
hunters.