Name: Grace Altenhofen
From: Shawnee, Kansas
Grade: 12
School: Shawnee Mission North High School
Votes: 0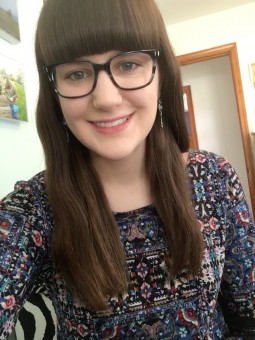 A
girl reaches up to hold my hand as we saunter down the hall towards
the cafeteria. We talk about her favorite kind of pet (dogs) and what
kind of pizza she's going to get at lunch that day (cheese). I help
her pick up a tray and utensils, and I get her the food that she
wants but can't reach. While she's eating, I grab napkins and
remind her to wipe her mouth; when food gets caught in her hair, I
pick it out.
That
girl is a senior like me.
I'm
lucky to have an opportunity most people never do: working with
special needs students. Every day during fifth hour, I act as a peer
cadet for students with severe special needs in my school. In any
given day, I hold half a dozen hands, get syrup in my hair, and see
hands reaching over to grab food off my lunch tray. And I love every
minute of it.
The
kids in the special needs class are some of the most incredible
people I've ever had the fortune of meeting. Stereotypes say that
'All special needs kids are the same' or 'Kids with Down
Syndrome are always happy', but each student I've worked with has
their own unique personality and talents; you just have to be patient
enough to discover them. One student in particular loves music; he
uses his iPad to mix songs that rival professional musicians' work.
Many people don't know how to react to his severe autism; he talks
to himself and walks constant circles around the classroom. But
patience and perseverance have helped me get to know him, and now I'm
often one of the first to hear his new songs.
As
soon as I arrive every day, kids are pulling me in different
directions, all eager to have my attention. The teachers think it's
helped them to have a peer rode model; to me, the kids have taught me
more than I've taught them. Through this experience, I've grown
as a person and learned a lot about myself. I have more patience and
compassion than ever before, and when I meet new people, it's
important that I get to know the whole person. Working with special
needs kids has taught me that everyone has a story and everyone's
story deserves to be heard.
I'm proud to call
the special needs students my friends. I'll miss them when I
graduate, but I know this is not the end of my story. I hope to
volunteer someday as a buddy for an adult with special needs. I'm
grateful to have been given this opportunity and I believe I'm a
better person for having known them. When you can look beyond labels
and truly see the person inside, that's when you can start to
impact your own little corner of the world.