Name: Nikita Ephraim
From: Takoma Park, maryland
Grade: college senior
School: Washington Adventist University
Votes: 0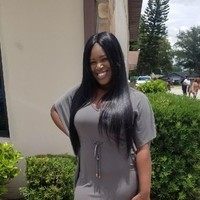 My Commitment to Volunteerism
I'm committed to voluntarisms. Every semester my school Washington
Adventist University has a full day dedicated to servicing our
community. Approximately 270 Washington Adventist University
students, faculty and staff get together to serve the community
during the university's Service Day, The Fall and Spring Semesters
Service Day features a dozen projects that were directly aligned with
the needs of the Silver Spring, Langley Park and Takoma Park
neighborhoods. The projects included painting, removing trash,
cleaning shopping areas, preparing meals at a food bank, helping
teachers in their classrooms and cleaning school grounds and much
more. I'm so happy to have been a part of such a self-less
experiences.
In fall of 2016, I was blessed to help clean up Jesup Blair Local
Park. Our goal as a team was to pull up the Irish moss that was
killing the beautiful plants, trees, and grass. This experience was
so beautiful for me because we truly worked hard and help Jesup Blair
Local Park regain its beauty once again. I also found this voluntary
experience very informative. I've always seen Irish moss plants but
I never knew they were bad for other plants. In spring 2017, I had
the privilege of picking up trash in another local park. Cleanups can
save animals' lives and discourage people from littering in the
future. Cleanups are good for the overall health of the environment.
Not only did the park look more welcoming, but my team and I felt
very proud. In fall 2017, I got the opportunity to serve the
homeless. We packed nutritious meals and healthy snacks. Then we went
to out to the park where a lot of homeless men and women slept, and
gave every single person something to eat. To see the gratitude on
the individual's faces, was just priceless. We also spoke
encouraging words to them. It felt so good to help someone in need.
It almost felt as if it were an even exchange. We also started
interesting dialogues on topics we all could relate too. That day
made me feel like I made a difference in my community.
Spring 2018 I had the privilege to help organize and clean the
Habitat for Humanity ReStore. Its home improvement stores and
donation centers selling new and gently used furniture, appliances,
home goods, building materials and more. This was a fun voluntary
experience. We prepared the store for opening and assisted customers
in the color tag sales. I bought a chair which I still have and love.
The best part about buying from this organization, is that the
profits go to families in need of a home. Fall 2018, I had the chance
to help set up, and serve food at my local farmers market. Putting up
the banners, menus and signs. The food smelled and looked great, and
to see and feel how much work is put in too provide our community
with fresh fruits and food I was truly amazed.
In conclusion, I found that most of my voluntary experiences left me
feeling hopeful, encouraged, inspired, and blessed. Every voluntary
encounter has made me a more coconscious and willing to be more
hands-on in my community. I truly hope I can continue to find
creative ways to be involved because it has impacted my life for the
better.