Name: Brianna Selles
From: Litchfield Park, AZ
Grade: 12
School: Grand Canyon University
Votes: 0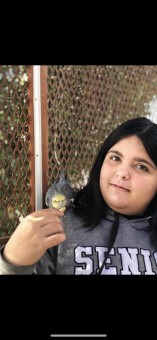 When I
was a 1 month old baby, I laid my eyes on my cat Diva. When I was 2
years old, I laid my eyes on another cat, Kitty. As the years went
on, so did the amount of cats I took care of. All of my life, I have
been in awe of cats. I find them graceful, independent, and
beautiful. Ever since I could know how to say "cat," I have
supplied the cats in my neighborhood with food, water, and shelter.
Some of the biggest challenges of feeding these cats is the cost for
all of their supplies. Although it can be costly, I get the most
satisfaction of seeing my cats healthy and happy. After volunteering
for so many years, I have learned that cats, like humans, are
independent but at the same time also need help to survive. All in
all, if I were to come back in 20 years and reflect upon my volunteer
hours with my neighborhood cats, I would notice the big impact I had
on their lives. I helped mamma cats with their newborn kittens
survive by giving them food and a warm place to sleep. I have taken
in injured cats and let them heal. I have also taken cats that were
extremely malnourished and nursed them back to health. I have made a
difference in each of these cats lives, and I will continue to do so.