Name: Bryna Green
From: La Vergne, Tennessee
Grade: 12th
School: lavergne highschool
Votes: 0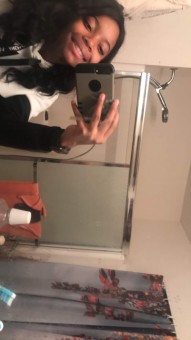 Hi, my name is
Bryna' green and for my volunteer work, I decided to do PAWS.
What is paws? PAWS
is working
in partnership with the community to create a safe, healthy and
caring environment for both our citizens and animals through
education, adoption and courteous, effective enforcement of the
Tennessee Codes annotated relating to animals and the rules &
regulations pertaining to control of animals in Rutherford County.
Within
almost every weekend on Saturday, we volunteer for two hours and we
socialize with the cats after reading to the dogs.
The
biggest challenge was to read to the dogs sometimes its fun but also
they bark really loudly.
What's
given me satisfaction was giving back to the animals and giving them
the attention they need.
Finally
what I've learned and can take away from this experience is how to
handle animals and how to play with cats.
Honestly,
it doesn't align with my career choice but it was a good experience
to go through.
Looking
in the future I see myself teaching, forward-looking to me means to
have a plan for myself.
What
I would change in my volunteer work is to learn how to walk dogs more
often.
Also
if I were to come back in the future it would make a difference by
understanding and using what I've already learned from volunteering
now.