Name: Samantha Castro
From: Brooklyn, NY
Grade: Grae 12
School: Christ the King Regional High School
Votes: 0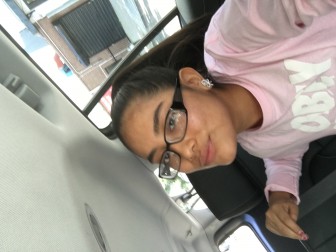 At the age of
twelve I felt a need to be engaged in my local community by
participating in local musical events. Instead of valuing myself over
others a natural urge was to entertain my local Sunday Mass community
by sharing my love of music and Jesus with them. I felt that through
songs our community could connect and share the joy of gospel music.
I engaged in every opportunity that presented itself, multiple hours
a week including traditional Catholic Mass Choir, Traditional Mexican
Community dances, Local Veterans' Parades, and Community Holiday
Concerts. As a volunteer my responsibilities were to lead groups and
edify individuals through song and performance. Organizing groups of
young people and creative planning were common.

Volunteering brings with it tremendous challenges. Stress and
exhaustion after continuous hours of service in severe outdoor
weather also factor into quality of performance. The greatest
challenge of all is avoiding selfishness; being genuine in the spirit
of giving for the sake of others as being on stage and having crowds
cheer for your performance can bring about arrogance if one is
unaware. The greatest reward for my volunteer work is not only my
sense of joy from the smiling faces in the crowd, but the discipline
that has been engrained into me.
Volunteering in the
field of music and community entertainment gave me several important
lessons. Whether I was the lead musician or backstage I learned that
humility was key to working with others. No one will want to help
someone who they feel is arrogant. Most importantly you earn
leadership skills, which can be a confidence booster, especially when
facing new challenges such as entering college.
While I'm not
sure I'll pursue professional music or entertainment, the desire
to provide for those
who are less favored will carry on through a career in dentistry.
Through "health
missions" and other volunteer applications such as those offered by
the American Dental Association I would offer people who never had
access to formal healthcare a new quality of life, free of charge. I
could provide oral care procedures to those with chronic pain, birth
defects, and people who would've otherwise never experienced a
regular visit to the dentist and give them a new sense of value and
self worth.
I seek to inspire
and encourage students to do what they love and share their talent
amongst people of all ages and cultures. I'd like to see students
thrive by treating others as they would like to be treated; valuing
their self highly and valuing others in the same fashion. This would
benefit everyone involved and bring a new sense of purpose to
individuals whether in dentistry or musical entertainment and lead to
longer lasting more fruitful lives and relationships. Projecting into
the future, I hope students have become more proactive in their way
of approaching volunteering and look at the example that me and many
other shall leave; that others are just as valuable as one's self.