Name: Giselle Fisher
From: La Crosse, WI
Grade: 11
School: Aquinas High School
Votes: 0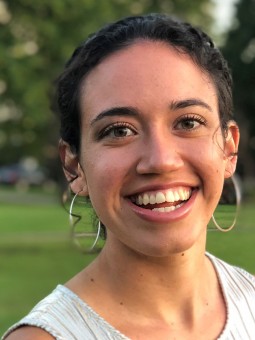 Sharing
Culture, Community, and Kindness
After
17 years, I have finally realized what makes the Latin community so
vibrant and lively–passion. Whether cheering for a soccer game or
attending a gathering, my family and friends in Mexico never cease to
show their passion. I take this enthusiasm with me in everything that
I do. Due to my city's recent increase in Hispanic population, I
decided that I wanted to help, so I contacted the La Crosse Latino
Center and began volunteering. For nearly the past two years, every
Monday and/or Tuesday night I have assisted the center for about
three hours. Many times, when someone walks through our doors for the
first time, they appear timid and uncertain about speaking English.
By greeting them with a smile and a "Hola! Bienvenidos a Centro
Latino! (Hello! Welcome to Centro Latino!)" their uncertainty
disappears as the language barrier is removed, which gives me
gratitude that I know a language that allows me to connect with many
people. At the Latino Center, we provide community members with
English as a second language classes, tutoring help on homework,
translating, assistance on filling out legal forms.
While
volunteering at a local nursing home, I noticed a lack of knowledge
about cultures available throughout my area. The residents kept
showing their interest in my ability to speak a different language,
and because of this, about two years ago, I initiated a Spanish class
to broaden the residents' understanding of a new language and
culture. The interest of the residents kept growing; therefore, I was
glad to add a second session. During these classes, I plan lessons on
verbs, common phrases, sentence formation, and cultural information.
These two classes meet every Saturday throughout the year from noon
to three o'clock. Most of the residents have never left the
Midwest, which has limited their knowledge about other areas of the
world. The residents and I have a mutually educational relationship
as they share with me their life lessons about making the most of
opportunities. My Hispanic heritage allows me to build bridge with
others, as language and culture transcend boundaries. By sharing
different perspectives, one builds strong communities and
significantly reduces bigotry.
Although
I cannot pinpoint exactly how I will help people in the future or
what field I would like to study, I do know that I want to educate
others, assist the people in my hometown, and study a field in
medicine. I would love to continue practicing my Spanish and forming
relationships with people, so I can connect with as many patients
possible. This has been a skill I have worked on, as initially with
my activities, I was shy and worried about what the residents and
community members would think about me. Within a few weeks, I
experienced the love from every person I met. Looking back, I hope
that I gave the nursing home residents and Latino Center members a
look into new cultures and lifestyles free of prejudice and
judgement.