Name: Oleksii Fedorenko
From: Kyiv, Ukraine
Grade: 11
School: Polytechnic Lyceum of NTUU "KPI"
Votes: 0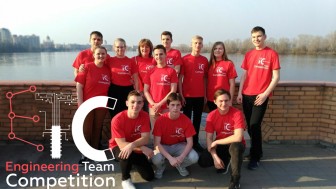 I spent 17 years
of my life in Ukraine. There, in my high-school, I was a part of the
community with a huge interest in science and irrefutable desire to
create. We were not content with a regular level of STEM education
among school children; we decided to initiate changes and encourage
younger pupils to participate in the maker movement.
The first attempt
was the organization of KPI Lyceum School Maker Faire as a part of
the International Maker Faire movement. The idea was to make a
non-profitable event at which people could observe various scientific
projects, attend master-classes and, consequently, feel observe that
creating innovation and developing the science sphere is vital and
interesting. Maker Faire event took place at the end of the 10th
grade. The organization was a long-lasting journey. Our team had to
find projects, place, make ads, etc. My science teacher in school was
also a professor at a KPI University and she had an extended network
of connection. Therefore, I inquired to her for help. Under my IT
science teacher mentoring, I became one of the leaders of the whole
organization process starting from advertising and inviting
professionals for master-classes to negotiating with Kyiv Polytechnic
University about a place for the event. We spent about 6 months
preparing this event and I, in particular, was working about 20 hours
a week during this period. For us, this event became a huge success
because over 600 people visited it. Thanks to this event we formed a
team that was further involved in developing scientific community
among youth.
Continuing the
idea of promoting science, I became a co-founder of the Engineering
Team Competition (ETC), which goal is to improve participants'
presentational, teamwork and engineering skills. We held two events
of this format, one was for the whole Kiev region and the other for a
private school. I, as a spearhead of these events, became the main
leader. The ETC events took place at the end of my 11th grade. They
were of comparable size with the KPI Lyceum School Maker Faire, but
it took much more effort to organize them because our team had to
find sponsors for the ETC. It was especially hard to find sponsorship
due to the economic hardships in Ukraine. To find the support it took
hundreds of declined emails and phone calls, but I finally found not
indifferent companies that provided materials, food and informational
support.
Organizing ETC
and Maker Faire events has been the best time I can recollect. After
exhausting hours at school, there was no better prerogative than to
meet with peers and work together on a project aimed to help younger
students understand the beauty of science. Being part of the
committee, listening to all the opinions, having fun and coordinating
work has enriched my soul and energized me. The experience of being a
leader of the organization process of these events is something I
will seize in my adult life to initiate even more changes.