Name: sophia m northrop
From: Naples, NY
Grade: College Freshman
School: Keuka College
Votes: 0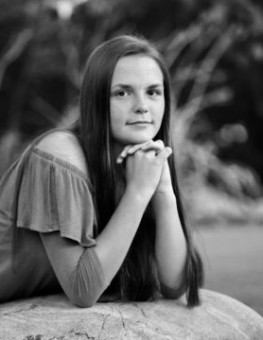 Sophia
M Northrop
Youth
Forward Scholarship
The
joy of giving is what spreads simple gestures of happiness around the
world. Giving can be as simple as a pat on the back or in my case
volunteering around my community. The Rochesters Cumming Nature
Center is an outdoor camp for the public and schools to take awesome
adventures that they don't normally see. For example big city
schools take field trips for the day and see pine cones, animals,
flowers, even trees. I helped promote the Cummings Nature Center by
volunteering twenty five hours one week painting fences, cleaning
tanks, and guiding children and families to have a fun and
educational journey through the nature center. I have also dedicated
my time to a more amusing activity, teaching five and six year olds
to play soccer at my local community park. I spent three hours a day
for two weeks, tieing shoes, instructing the children, and keeping a
group of six year old under control. I enjoyed volunteering at this
soccer camp because I am going to college to be an elementary school
teacher so working with children was a positive experience. Another
volunteering experience I had was at my towns public library. I
stacked returned books, dusted and wiped books and shelves, helped
people find certain books, vacumed carpets, ect… The librarian at
the time was my great grandmothers best friend so it was easier to
obtain this opportunity. Junior and Senior year of high school I
helped host a senior citizen dance. This experience involved several
hours of decorating, preparing drinks and food for the seniors,
serving the drinks and food, having conversations with the senior
citizens. I had a great time at this dance because we got the older
members of our community up and out of the house having a great time.
It may seem like a simple gesture to you and me but for these people
it meant the world to have attention and get out of the house to go
dancing. When I was a senior in high school I volunteered my seventh
and eighth period study halls to peer leadership in lower grade
classrooms. Mrs. Nicholson, an eighth grade English teacher allowed
me to observe and help in her classroom. I lead the class in fun
activities every Friday, helped students with homework, and enjoying
interesting conversations with Mrs. Nicholson and the students. I
grew attached to one of the students throughout the experience. We
worked on homework together as well as wore matching shirts to school
one day. I loved this experience for so many reasons because I
obtained information on my future occupation and got to make great
relationships with new people. All in all I believe volunteering in
and around your community can make a long lasting impact on an
abundance of people. Keep inspiring and helping people because you
have to give something to get something, so go above and beyond your
ability and make an impact.