Name: Leah Bellcase
From: Edgewater, Maryland
Grade: 12
School: South River High School
Votes: 0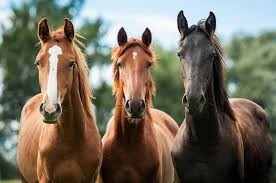 The Impact of the Equestrian
World
Finding
volunteering opportunities that I am passionate about is important to
me. I have been horseback riding for ten years and a few years ago I
asked my trainer about volunteer opportunities involving the
equestrian world. In 2014 I began volunteering around the stables, I
helped to work shifts feeding the horses, cleaning stalls, managing
the barn etc. I still volunteer my time, up to four hours a week at
Hidden View stables. I chose to start volunteering because I loved
being around the horses and helping my barn community to stay clean
and run smoothly. One of the biggest challenges I have faced is
having to volunteer year around through all weather conditions, it
becomes frustrating to work in the winter as more responsibilities
arise, such as the need for blanketing horses.
Although
I enjoyed volunteering for my horse barn, I wanted to expand my
volunteering so I started looking for more opportunities in the area
when I came across Maryland Therapeutic Riding (MTR), it is a riding
center that utilizes horses to help heal and provide a means of
therapy for children and adults who may have physical, mental, or
psychological ailments. I applied to become a volunteer at the
stables, then underwent special training in order to care for the
horses, as well as helping to assist those visiting the stables by
becoming both a Barn Volunteer and a Lesson Program Volunteer in
2017. Volunteering at MTR has helped me to meet a wide range of
people and the cause is also close to my heart. My family has a
history of mental ailments so I enjoy helping others with mental
illnesses, exposing them to the equestrian world and helping them to
heal, gain confidence, and enjoy life. I currently volunteer about
six hours a week year around through all weather conditions.
For
my future I wish to pursue an engineering or research focused career,
although there may not be a direct link with my volunteering, I
believe that it has helped me grow as a person from it, learning to
improve my teamwork, interpersonal skills, and most of all,
compassion. I think that my volunteering encompasses the idea of
"forward looking", equine therapy is not very well known, but it
can be a powerful tool to help people, which something I hope to
achieve as an engineer or researcher. While volunteering I hope to
improve the lives of the people and animals around me, no matter the
size of the impact, whether it's a friendly face or an encouraging
friend. When I look back on my volunteering, I will know I have made
an impact on countless lives. I have had the opportunity to meet so
many people over the years that have left an impact on me as well.