Name: Damien M. Allison
From: Philadelphia , Pennsylvania
Grade: College Freshman
School: La Salle University
Votes: 0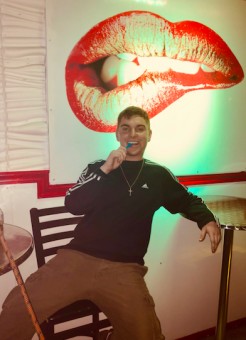 The Journey of Volunteering through my Academic Careers
The
concept of volunteerism has always been involved throughout my
academic career since the beginning of high school. When attending
high school I really had no sense of direction in regards of the
future, but with volunteering it gave me ideas for the future. My
first volunteering involved training children with special needs, and
showing them how to play soccer. This event was organized by my club
soccer team. This type of volunteerism gave volunteers the
opportunity to experience teaching children with special needs, also
gain that sense of hospitality by helping others. This volunteering
went on for all four years of high school and was only during soccer
season once a week. The hardest thing about this type of volunteering
was when the children did not want to listen, and would throw
episodes.
To continue there
are many other acts I have been involved in, which range from many
areas. For example, my sophomore year in high school I was given the
opportunity to spend about two months in Naples, Italy where me and a
group of student attended school Monday to Friday at regular school
hours and taught young Italian children English. Responsibilities
included the same as a teacher, having a lesson planned, and being
able to clearly communicate with the children by knowing the Italian
language. This service trip was organized by my high schools foreign
languages department, giving students the opportunity to travel the
beautiful Italian country and also being able to help and educate
young children. This type of volunteerism is one of my favorites
because it involves life changing experiences but also the act of
helping other especially children which I plan on doing after
graduating college.
Once beginning
college I had to find areas where I can volunteer and provide a
helping in the community. Because of the act of volunteering and
having the highest GPA on campus, is which why during freshman spring
semester I rushed Delta Sigma Phi. This frat was known for their
academics and community service, which was a major reason why I was
so interested. Once rushing Delta Sig, many volunteering
opportunities appeared at my door. Some of the ones I volunteered in
was the Face-to face organization, where we helped them plant a
garden, and then go back at least every other week to help maintain
there garden. This garden consisted of fresh fruits and vegetables,
which is then used in the kitchen to help make food for the soup
kitchen. This is the area of volunteerism that most correlates to my
area of expertise since my major is nutrition. This volunteering
associates with my desire to work in the field of nutritional
research that benefits pediatric obesity, and reduce the risk of the
chronic disease among children. All of these events that I have
participated show that the act of helping someone builds strong
character and creates great qualities about someone because they gain
great knowledge from it.