Name: Eli Lien
From: Chandler, AZ
Grade: 12th grade senior
School: Chandler Preparatory Academy
Votes: 0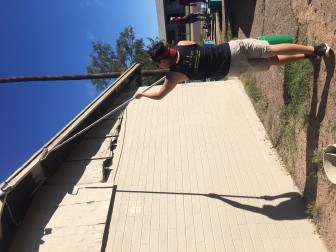 I
consider it virtuous to give, especially to the community. However,
it can occur in many shapes and forms. Whether it is serving at a
local food bank, tutoring children who need a little help, or
donating blood, all of these activities lead to one thing, a
difference for the better. In my high school career, I never would
have imagined volunteering as much as I have come to. The key club
was a great place to start, I was finally able to do something
productive with my time instead of wasting it glued to a screen. I
began to see a change whenever I volunteered.
From
a small prep school in Chandler, we were able to paint houses for
families in Phoenix, spend time with senior citizens in Gilbert, and
send food to those who need it in Africa thanks to Feed My Starving
Children. When many of my friends stopped participating in volunteer
work just because their required hours were done, it was difficult.
Some of my friends told me it didn't make them feel better inside,
that it was just a waste of time. I was taken aback, volunteering has
always been something that made me feel like an active member of my
community, and I am proud of it. To my friends, making time to serve
their community is a pain. They would rather do things such as
playing video games or partying. The way I see it, there is so much
work to be done and though it may not always make the volunteer feel
good, the work that is done makes improves lives. That alone should
be enough reason to get out and volunteer. Through all my
volunteering I have seen the good that anyone can do if they just
give a small amount of their time.
I
have volunteered over 120 hours in the past couple of years and I do
not plan on slowing down anytime soon. A big part of my service is a
mentoring program at my school where we help new students with study
skills and tutoring. I have met many great kids through the program
and it always makes my day when they give me a high five in the
halls. Tutoring all these young fresh minds has given me perspective
as to how to be a good role model, and encourage them to help others.
When I see these kids, I see the future right in front of me, and I
do anything I can to help. Whether they had a tough day at school and
could use a laugh, need help making flashcards for Latin, or simply
need a friend. I have seen myself the good that volunteering can do,
it has made me more proactive to help others and not be a bystander.
I feel that I must give back to the community which has already given
so much to me. Volunteering to me requires only a little time and a
will to help.