Name: Erin Lyn Morden
From: La Quinta, California
Grade: Junior - graduating high school in June 2019
School: Boise State University
Votes: 0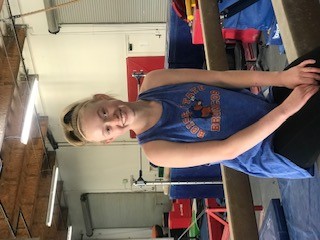 December
2018 – Youth Forward Scholarship Essay
Erin
Morden – Shadow Hills High School
¨THE WORK OF THE SOUL¨
"Helping,
fixing, and serving represent three different ways of seeing life.
When you help, you see life as weak. when you fix, you see life as
broken. When you serve, you see life as whole. Fixing and helping may
be the work of the ego, and service
the work of the soul."
– Rachel
Naomi Remen
When I look back at my four years of high
school, and consider the opportunities that I have had to participate
in community service, I see how each event in succession has shaped
my beliefs and the path my life is taking. By serving, I am changed,
and my soul is uplifted.
Over the past four years, I have
volunteered approximately 2 hours per week in many forms of outreach
to my community. I am a member of the National Charity League and
frequently participate in community events including Meals on Wheels,
and more recently at the ¨Christmas Store¨ which provided gifts to
low income families. I also serve at my church to help in the
children's ministry and music. But my most significant volunteer
contribution is as an assistant for a competitive cheer team named
"Rubies" providing athletic training for youth and adults with
physical and mental disabilities. I accepted this new challenge not
realizing how much I would grow and learn. The biggest challenge I
faced was overcoming my self-doubt wondering whether I could be an
effective coach. My responsibilities included assisting students
with physical and mental disabilities to learn the team cheers and
support those with special needs.
During Rubies practices, I learned how to
communicate with each participant and support individual needs
involving a wide range of physical and mental disabilities including
Down Syndrome and other more debilitating diseases. One of the
younger students with whom I developed a special connection was a
girl confined in a wheelchair due to Muscular Dystrophy named Zoe.
Until coming to the gym, Zoe had only dreamed of being part of a
cheer team. With the onset of her illness, she required more personal
attention and care than the some of the others. I was assigned as
her assistant which involved teaching her the routines, and helping
her experience all that she could despite her physical limitations.
Throughout our time together, her beautiful smile continually shined,
and we developed a relationship unlike anything I had ever
experienced.
It was a sad day in 2017, when we learned
that Zoe had succumbed to her M.S. and passed away. Looking back,
her memory and joyful spirit continues to inspire and motivate
everyone she knew, and coaching I now consider as one of the great
privileges of my life. I hope to carry this spirit of caring and
service forward in my community through my college years and beyond.
The experience of working with Zoe will continue to feed my soul for
the rest of my life. Moreover, by coaching and assisting with the
Rubies team, I have grown as a person and learned to more readily
accept others, especially those struggling with physical and mental
disabilities. Through the experience, I have learned to redefine
obstacles as challenges, and helped my community by sharing kindness.
I have discovered a new sense of purpose in the meaningful work of
supporting those with special needs.
491 words