Name: Daniel Naqui
From: Cape Coral, Florida
Grade: dan.naqui@yahoo.com
School: dan.naqui@yahoo.com
Votes: 2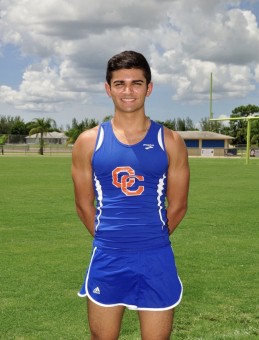 "Danny, are you my boyfriend?"
"No, Torr. I'm your friend!"
Torr is one of the many students at my high school that endures the
challenge of being an individual with special needs. During my junior
year of high school, I volunteered my time to work with these
students in a program known as Seahawk Buddies. Torr stood out from
the rest of the crowd because of the humorous comments he'd make.
From calling me his boyfriend to claiming that he was Michael
Jackson, Torr always had something to say. Torr never shied away from
making a humorous comment that would inevitably light up the
room.
Throughout the experience, I showed my commitment and care
in a multitude of ways from helping the students with their reading
abilities to assisting them while they bought groceries. I even
helped them prepare spaghetti for their lunch one day! My presence
both in and out of the classroom made a positive impact on their
attitude when they performed tasks. The friendships I made with each
of those students are powerful and grow stronger every day.
The experience taught me valuable life skills. For example, I am better
at consistently viewing every situation in life from the other
perspective. The children that I volunteered with never chose to have
been born with special needs, yet, they still were. This made me feel
like it was my moral responsibility to help them in any way possible.
The students needed extra assistance and there were only so many
resources and adults that could be provided to them. I never
hesitated to offer my time if it meant I'd be making a positive
impact on the lives of these kids, and I would do it again in a
heartbeat.
Ultimately, the experience allowed for me to become a better friend, brother and
human being. It revealed to me how much of a blessing people with
special needs are. I became a more understanding, positive and
optimistic person while caring for their needs and celebrating their
accomplishments. I can now apply many of the qualities that I
obtained in their classroom to other interactions that I will
experience in my life.
In the future, I plan to continue volunteering with special needs
students. Despite only seeing these kids for a few hours a wee, it
still made a positive impact on their lives, no matter how small.
However, I do hope that I can make a bigger impact in the special
needs community while in college. I plan on continuing to volunteer
with special needs organizations and hope that my resources will
allow me to make an even bigger impact on an even larger number of
children.
Every person with special needs serves a role on our
shared planet. No matter what their role is, I believe that each of
them are capable of doing amazing things in their lives. I cannot
wait to see my friends spread their happiness to others, just like
they did for me.