Name: Sarah Hajek
From: Plainfield, Illinois
Grade: High School senior
School: Plainfield South High School
Votes: 0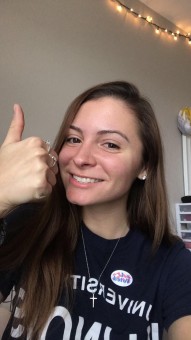 My
schools National Honors Society requires community service. However,
it is far from demanding: 20 hours. I first went to Feed My Starving
Children (a non-profit dedicated to ending world hunger) in July
before my senior year with my coworkers. I really enjoyed it, so we
went a few more times. When school started, I began going on
Saturdays, as it was hard to find time during the week. I have been
going regularly for 4-6 hours since September, and am well over the
requirement. While I originally planned to just get my hours done, my
motive for going quickly changed when I got a better glimpse at the
organization.
Now
I go because I enjoy it and I love being there. I have become part of
a group of regulars who are there every Saturday. We have gotten
close and I love spending time with them. Similarly, the employees
are all amazing people that I look forward to seeing every week.
Besides these usual people, I love meeting a variety of different
people. I have heard so many different stories and learned new things
about the world and about religion, as they are Christian-based. I
have had struggles with finding my faith, and this organization has
helped me with that.
My
group has a good system. We work in the warehouse, so rather than
actually packing the food, we take care of supplying the ingredients
or other supplies to the people packing and bringing empty things
back. Myself and another regular bring full boxes of packed food to
the back and bring them empty ones. The others do similar jobs –
bringing supplies back and forth – and we all help each other and
work together.
The
only difficulty I have is dealing with negative people. There are
specific ways to do everything, so if I see someone doing it wrong, I
say something – which the employees encourage. Usually, they are
respectful, but occasionally they are not. Being relatively young and
not an employee makes it difficult to establish credibility.
Typically, I receive some passive-aggressive attitudes but they
listen, but sometimes they refuse. In that case, I have to get an
employee to talk to them, which usually results in the volunteer
being more angry. Despite this, I keep up my positive attitude and
continue being nice to them.
Volunteering
here has given me a different perspective of the world. I find joy in
serving others in need and doing it out of kindness. Meeting
different people and hearing their stories is inspiring. My heart now
goes out to the people suffering from starvation around the world and
I know that my contributions are helping. I see myself continuing to
go every week until I leave for college, and I hope to find similar
things to volunteer at when I am away. Feed My Starving Children has
grown into something much more than just a place to get my service
hours, and it has truly changed me as a person.