Name: Makenzie Jo Andrew
From: Alexandria, IN
Grade: 11
School: Alexandria Monroe High School
Votes: 0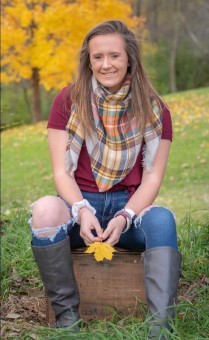 Throughout
high school, you should try to be involved in as many volunteer
services as possible. Not only do these kinds of activities look good
on various things such as scholarships, applications, etc., it also
can truly be good for any person, mentally. With all of the different
kinds of volunteering I have been able to participate in all four
years of high school, I always learn something new with every new
experience. I have been a volunteer every summer, helping our
volleyball and basketball kids camp that goes on for a week and I
have even been a volunteer at our county fair for the past four
summers, as a parking attendant who collects money as people enter
the fairgrounds. My parents and I are a part of a non-profit
organization, United in Spirit for Kids, that helps pay for extra
curricular activities, such as sports, class trips, hosting of
foreign exchange students and many other things. I volunteer at these
events to help out in the different types of concession stands we
work in whether it be at Lucas Oil Stadium, Pepsi Coliseum at the
Indiana State Fairgrounds, Bankers Life Fieldhouse, or even at Ruoff
Home Mortgage in Noblesville, Indiana. Occasionally, I volunteer and
help my mom work concessions at Muciana Volleyball Club. It works in
a similar way, but it is not a part of the United in Spirit for Kids
group. I am a graduate of junior year Youth Leadership Academy as
well as senior year Youth Leadership Academy 2.0. With these two
groups, we were required to get a certain amount of hours, but it was
no problem for me getting these hours accomplished due to my love for
helping out others through volunteer work such as work at the
Christian Center, at the dog costume contest at the Hosier Racing
Park and Casino, working at the midterm election polls and so many
other activities. I try to volunteer as much as possible in my free
time. I think the most important thing to me when volunteering is
just simple doing that, volunteering. I think it takes a specific
type of person to be a volunteer because you have to be dedicated as
well as be willing to set aside the time to go and do that volunteer
work. I also think when you're doing tasks in volunteering, it's
important to have the mentality of "I'm going to get this done
and I'm going to do my absolute best I can do." I have learned
many different things from working with so many different people
throughout my various volunteering experiences and I will use each
and every thing I learned and put that forth my life as I move
forward and move on to the "grown-up" life after high school.