Name: McKenzey Crowley
From: Rapid City, SD
Grade: 11
School: Central High School
Votes: 0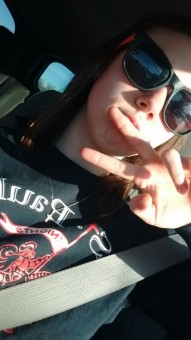 McKenzey
Crowley
Volunteerism
Volunteering
in many ways
Volunteering
is a key role in this world. Volunteering can help people. You can
save lives by volunteering or you can just make someone smile.
Volunteering can have a big impact or small, but no matter what
volunteering can change someone's life.
I
am in the National Honor Society at my school. We do volunteering
every month as a service project. We are going to read to an
elementary school in our area this month. We just did a pie drive and
collected pies for homeless people. We also have helped Feeding South
Dakota fill backpacks.
I
am also a student council officer. We do volunteering every month. We
do a picnic in the park for the homeless people in my city. We also
did a pie drive for the homeless people. We also went to an
elementary school to promote graduation and being successful in
school. We help multiple schools in many ways.
I
also am helping in a blood drive at my school in December. This is
huge volunteer opportunity for people. Blood can save lives. There
are people in the world who are unable to get blood and need blood
transplants. The only way those people get that blood is through
other people's blood and them giving it to them. I will help in
multiple blood drives this school year and am very excited to be able
to saves people's lives.

I
volunteer a lot in my church and in the community. I am very blessed
to be able to help people who cannot help themselves. I have
volunteered at nursing homes and helped elder do simple things like
play games. I help in my church with teaching and I help teachers
when they need help on a big project. I also have helped in the
community by going to food drives, providing food for food drives,
and helping people who cannot help themselves. Volunteering is a very
nice event that we are very blessed to have. I am very thankful for
those people who volunteer on a regular basis. I think more people
should volunteer because it is a privilege to be able to help people
who can't help themselves.