Name: Jackson Beaver
From: Mesa, AZ
Grade: 11
School: Desert Ridge High School
Votes: 0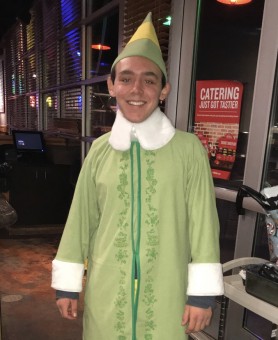 I try to change my
volunteer options a lot so I can help the most people possible, but
my main focuses are on homelessness and the impoverished. I go to
Phoenix Rescue Mission to prepare and serve food to the homeless,
giving them warm and healthy food to keep them on their feet, and I
also volunteer at Feed My Starving Children, packing them food bags
so they don't starve or go unfed. I tend to volunteer around 30
hours each school year, getting about 15 or more each semester. As a
volunteer, I had to make sure the food was packaged correctly to be
shipped and sealed completely, and at Phoenix Rescue Mission I had to
make sure the food was in the right places and the homeless got what
they wanted and needed. The biggest challenge was not being able to
help those people more than I could. Watching them walk by with
ragged and torn up clothes in the cold weather was very depressing,
and not being able to help them more than I did was hard to bear.
Seeing the people as happy as they were when I served them food was
the best thing I could've gotten from being a volunteer. Knowing
they actually appreciated what I was doing for them and being able to
help them was the most satisfying thing. I've learned that not
everyone has the same level of living, and everyone has different
backgrounds, and they almost couldn't avoid the situation they're
in. I see my activities as a volunteer as forward looking because
this will help me understand people better, their stories and what
can happen to get into that place, and I realize that servicing
others is the best thing I can do in this life. It showed me that
volunteering is something I want to do throughout my life and
whenever I can. The change I want to see is the homeless rates going
down, and no one going to bed hungry. If everyone was able to fall
asleep with a full stomach everyday, it would make me the happiest. I
think if I came back in 10 years, my service would have made a
difference to a few people, but not as big as I would like to make.