Name: desiree monique gamero
From: Anaheim, California
Grade: 11 grade
School: Anaheim High School
Votes: 0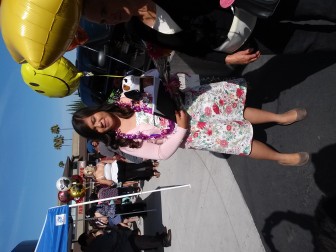 Desiree
Gamero
We
can all make a difference
As
a high school junior , I wanted to seek for more opportunities that
were given to me and take advantage of them. I saw that I could help
a little through the program of Big Brothers Big Sisters. In this
program , I would be able to help a elementary school student with
their school work and spend quality time with them and be able to
grow a bond and have a real connection with them. I joined the
program and I got paired up with a little girl in 4th grade. She was
super sweet when I met her and we got to bond together and get to
know each other really well. At the beginning they informed me that
she wouldn't do her homework and she would behave really bad in
class and disobey the teacher. I would go once a week to her
elementary school for an hour and my responsibilities as her big
sister was to make sure she was doing all her work and to be able to
help her out. We didn't just bond but we got really close to the
point where we were inseparable or we would just love to talk and
talk . She trusted me so much to the point where she told me the
problems she was having at home and told me that she never had any
one that cared for her as much as I did. She mentioned that she never
had someone telling her constantly to behave good in school and to
tell her that they love her. She never had someone that always pushed
her to do her best , until she met me. I am the one that helped her.
I was the one that pushed her . I was the one that told her that I
loved her and catched up with her every week. I was the one that was
actually there for her and made sure that I would always be there. I
was the one who cared about her and made an impact on her life. She
started showing tremendous growth not only in school but in herself
as well. This gave me the biggest satisfaction because I know what
it's like to not have someone in your life who is always pushing
you to do your best so I wanted to do it for someone else and I'm
glad I did it for her. This showed me that we can all make a
difference in someone's life if we are just willing to.