Name: Tasnim Tarannum
From: New York, New York
Grade: Freshmen in college
School: Fordham Univeristy at Lincoln Center
Votes: 0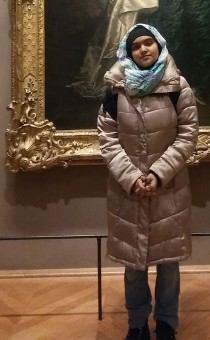 Scanning
through the titles and images on the spines, there was a certain
wonder she found in libraries. As I sat down with my pile, the
setting and storylines poured into her head and I was immersed in the
deserts of Egypt, the lake cabin in upstate New York, and the
mythical gardens and palaces of fantastical worlds. All of this
occured while I sat in the comfort of my home with hopes to one day
travel the many parts of the world I read about. While writing
stories about my own adventures, I wondered what I do when stuck with
the same scenarios as the characters in my books. That developed my
empathy towards others whose lives I may not know much about but
wanted to learn more about. That is what motivated me to volunteer
for my local library with its three floors dedicated to different age
groups and librarians on each floor.
Volunteering
at the library in high school allowed me to learn about the inner
workings of the place I knew as a patron and to appreciate the
services that are set aside for students who may not have the money
for the best books or tutors. Working for ten hours on the weekdays,
I made sure to be at times after school where I knew that students
would come to the library for help. Working through problems and
preparing elementary and middle school children with the tools to
succeed was rewarding. Being able to balance that with my increasing
schoolwork proved to be a challenge that I overcome through talking
to the head librarian about the times that worked for the children
and me. Although it was a small affair, starting a program and
helping students who were not confident in their own abilities and
those who were new to this country is a great way of seeing what
positive change I am able to do.
Being
forward thinking is using the skills I developed through tutoring and
helping my community to inspire other students to try their best and
start a nonprofit dedicated to the mental well-being of middle
schoolers and high schoolers. Based in public schools and libraries,
it will be groups of people sharing how books helped them in school
and solving personal problems together. Reading was my way of
stepping away from the world to examine the solutions to my problems
by looking at the way that others handle similar difficulties. By
creating a support group that encourages reading and positive
self-esteem in public places will hopefully provide more
opportunities for young adults and encourage them to build a strong
future for themselves and people they love. I see many people who
need a support group that will encourage them to learn and enjoy
great books. This would also be a great group to bring about
positivity in the world for future generations so that they will be
able to pave the way for themselves and their offspring.