Name: Sophia Haug
From: Richardson, Texas
Grade: 12th
School: J J Pearce High School
Votes: 0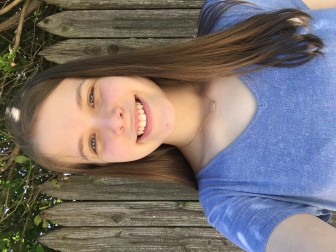 The areas that I
have chosen to give my time and services to are helping provide food
for those who need it and helping junior high students as a junior
counselor to them. I chose to help provide food to those who are in
need of it because of all the homeless people that I see while
driving around in my home town city dallas. I felt that it was and
still is my responsibility to help those who need it. My choose in
becoming a Junior counselor was a volunteer job that I wanted to take
this is because I love interacting with people and spreading joy.
Along with that I was ultimately chosen for this position because of
my leadership and inclusiveness qualities that I am willing to share
in a positive manner to others.
The amount of
time that I have spent on helping the homeless let it be from working
at food banks, soup kitchens, or passing supplies out to homeless
individuals on the street I probably spend around 15 hours a month at
least. As for helping out with junior high kids I spend at least 35
hours a month meeting with them every sunday, wednesday, and
thursday. My responsibility as a junior counselor is I have to act as
a role model for the junior high students, I have to provide
guidance, include those who may be alone, help them with problems
they might have at school (social or academic), but most importantly
I have to be a friend to them.
My biggest
challenge I face when I am volunteering is I either feel that I am
not doing enough and there is always more to be done I feel that even
if I am working as hard as a can I don't feel that it is enough to
make the impact that I desire. Though I do find satisfaction in my
work when I get to see first had the responses people have to the
work I have done. Seeing people feel a sense of relief and joy to
something I have done only drives my motivation to help others more.
I have learned from my volunteer positions is to use the positive
characteristics I have to help others.
My future career of
being an accountant is aligned with my future in volunteering because
I plan using my skills to provide free personal financial advice to
those who need or want it. I see my activities as forward looking,
which to me means to looking at my impact in the future, by teaching
me the value of volunteering to continue my need to help others. The
change I seek in my volunteer work is just to try and make the world
a more positive place.Coming back in the future I would hope the
difference I made in the world was helping an individual out so much
that they decided to help others as well.