Name: Sara Knighton
From: Adel, Georgia
Grade: senior
School: Valwood School
Votes: 0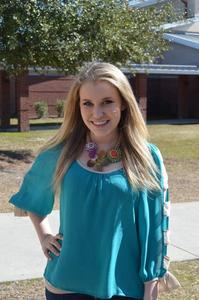 When my grandmother and grandfather moved down from Alabama my ninth grade
year, I anticipated that it would be a difficult time for my family.
In the latter stages of Alzheimer's disease, my grandfather was
beginning to forget the most important elements of life. The only way
that I could connect to him was by reading to him. Books opened an
opportunity to connect with him in ways that I thought were
impossible. After his death, I began reflecting on these events that
had affected my life in such a dramatic way. Volunteering at a
nursing home in my community became an outlet for me to help those
who suffered from the same condition my grandfather did. Because of
the events that had occurred with my grandfather, I was inspired to
create my nonprofit "BOOK Angels" at the end of my ninth grade
year.
"BOOK Angels" is a nonprofit I created aimed at promoting literacy and
the healing power of the written word to all age groups. Gently used
books are collected and the bindings are refurbished for further use
in my community. I began to have book drives and to construct book
shelves for the facilities in need. Although the project was
difficult to begin, I worked tirelessly to give it the title of a
nonprofit. I dispensed the books and the bookshelves to nursing homes
in the area and read to the patients. The project expanded to include
all age groups, as I saw a new need in my community.
Living in one of the most underprivileged counties in the state with one of
the top unemployment and literacy rates, I felt that "BOOK Angels"
could in some way alleviate this situation. By working with my local
DFACS office and Headstart program, I began to collect children's
books for my community and to read to children. I felt that by making
the project multifaceted, not only would volunteers come at a greater
level, but I also would be able to reach out to a larger group of
individuals in need. Children who experience domestic violence are
forced to often spend many hours at the DFACs offices with no
distractions. In my community's DFACs office, a daunting white room
often held many children at once who were victims of violence. By
adding our books and shelves, we found a way to make the room more
hospitable and to soothe the children at this distressing time. At
the Headstart program, children are often not introduced to as many
books, as their families do not have the means to buy books. I am
fortunate enough to experience with the children the joy of giving
them a first book. I was shocked when the children all hugged me at
once after I read to them and one small child exclaimed, "I've
never owned my own book before." Over the past four years, I have
collected over 1,500 books from my school and church to distribute
throughout my community.