Name: Emily Tenorio Molina
From: Santa Rosa, California
Grade: 12
School: Windsor High School
Votes: 1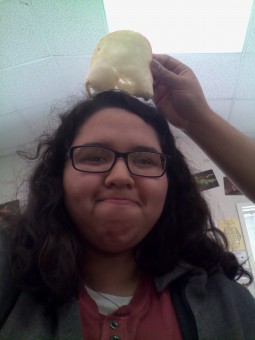 Emily Tenorio
To begin with, I chose to volunteer at the Redwood Empire Food Bank
because I thought it would be a different experience of how food
distribution works in Sonoma County. I would cater events where I
would serve appetizers, set the tables, prep salads and much more,
but at the end of the day I would pick up the plates from the guest
and throw it away. When I started catering, I realize that a lot of
the food was not even eaten all, just bites, and as I threw out that
food, I saw the waste of good food going down a garbage bag. Since
then, I began to preserve food and I really wanted to make a
difference on that behalf, a way to repay for all that food wasted
when I did catering. I've volunteered before at the REFB, that was
way before starting my senior project, which was back in middle
school– so when I was thinking about my project, I thought about the
Redwood Empire Food Bank as my choice for my project. I started of by
thinking of my topic, which is about the REFB itself and the people
who are impacted by itself. I wanted to know how the REFB distributes
the food, the percentage of consumers and the whole scenario behind
the building.
I started my first few hours in November (11/21/15), which was a
Saturday. Twice a month the REFB opens on Saturday from 9 am to 12 pm
only, there were several occasions where I became worn out by the
tedious work, but I wanted to continue my volunteerism at the food
bank for the sakes of the people who benefit from the food service. I
just wanted to make a difference, even if it was small, in a diverse
problem that is actually real in Sonoma County and that many families
and low income people are facing every day. I truly have much more
respect for volunteers who take their time out of their busy lives to
help pack oranges for hours on long, shelf bread, and work in
assembly lines, as I never knew how hard it is to volunteer at a food
bank. I learned a lot throughout my project, as I was walking around
with breads in my hands I learned that being a volunteer for a food
bank takes a lot of your time and that they are doing it out of good
cause, something that I would definitely push forward. I am proud to
have volunteer for the good cause of ending hunger in Sonoma County,
even if I did so in a small way and I encourage others to volunteer
at food banks, as hunger is real problem in our society.