Name: Isabelle Swanson
From: Omaha, Nebraska
Grade: 11th grade
School: Marian High School
Votes: 0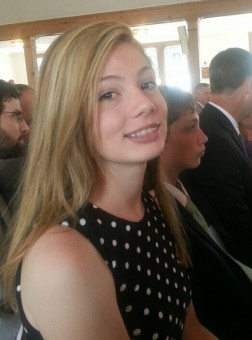 Tutoring has been an incredible way for me to impact the lives of others.
Tutoring is way for me to utilize my talents to help others. I have
volunteered before, from working at food banks to helping at events
for a non-profit wrestling program, and these opportunities have been
very fulfilling, but tutoring is something I am passionate about.
I tutor Wasuk, a fifth grader, for 30 minutes every week. After school,
I drive to a local elementary school and tutor her in her own
classroom.
I work with Wasuk on homework in all of her classes. We focus on
reading, since her family is originally from Sudan and she is rarely
read to at home. When we read together, and I get the impression she
did not understand a word in the book, I describe it, compare it to
other words she knows, and give the context in which I often see the
word. It is rewarding to see her confidently use new words.
One challenge I faced was deciding how much to correct her. She is a
bright student and fast learner, and I know she will go far in
whatever she does. She entered a speech contest and showed me her
speech. It was almost perfect. If she were anyone else, I would have
praised her for five minutes straight. With Wasuk, it was different
because I knew instantly that she had a chance to win the contest. I
knew if she tweaked a few elements, she would be a powerful speaker.
I decided the most fair way for me to deal with this was to be open
about why I was critiquing her, which allowed me to express how much
I believe in her.
This experience has been incredibly satisfying. She has always been a
fantastic student, and I am still in awe of how diligently she works.
She asks me questions and tells me about her life. She asks about
high school; she tells me about her recent stay in the hospital and
her baby brother. Her questions and thoughts are so insightful. She
has not only made me a better teacher, but a better person.
Although I do not plan on becoming a teacher, I want to be able to help
others. I am passionate about learning, and this gives me an
opportunity to help someone learn.
Tutoring is forward-thinking because Wasuk and I will both be the future soon.
I believe tutoring can change the world, because to create change, we
have to go one person at a time. Forward thinking is about planning
and preparing for the future, whether it be the future of a nation or
an individual.
If I were to meet Wasuk in thirty years, I know I would be impressed.
The way she tackles difficult problems still amazes me. Her work
ethic is something model in my own life. She may only be a fifth
grader now, but I believe she is, and will become, someone very
special.