Name: Kayla Elizabeth Leverance
From: Oshkosh, Wisconsin
Grade: 12
School: Oshkosh North High School
Votes: 31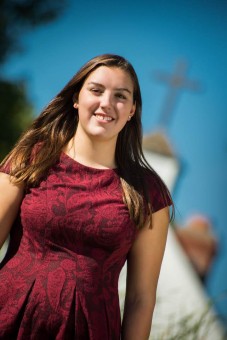 Kayla Leverance
Youth Forward
Scholarship Essay
25 April 2016
Volunteering in my Community
Over the course of high school, I have volunteered at many different
places in the community. While attending Oshkosh North I have been in
Student Council, Art Club, Polaris Honors Society, the Swim Team and
the Soccer Team. In addition, this past year I committed 6 hours per
month volunteering with dogs at the humane society. However, the most
important volunteer area I am committed to is at Portico Community
Church. Volunteering at Portico has helped me grow in my faith and
learn the importance of the volunteer work.
I have volunteered at Portico for over six years in childcare and have
helped out with church set-up and special events. During the church
service each week I care for and teach children ages three and under.
I chose to volunteer in this area because this position is greatly
needed and I work very well with young children. I love seeing the
children learn and grow as they become followers of Christ. Besides
childcare, I am always ready to help with any additional jobs. Each
month I volunteer anywhere from 1 to 4 hours.
My biggest challenge volunteering at Portico is teaching children that
are just learning how to walk and talk. It can be difficult to
introduce the concepts of faith, values, and morals at a level they
will understand. To help the kids learn, I try to set a good example
for them and model the concepts and behaviors I hope for them to
follow.
My interests and career goals align with this volunteer focus in that I
strive to follow God in everything I do. Volunteering at the church
is just one of the ways I show my faith in Christ and my desire to
carry out God's will. "Forward looking" to me means the
volunteering I do now will have an effect on both me and the people
around me. It also means continuing to volunteer in this area in the
future. The activities I participate in through the church are
forward looking because I see children growing in faith as they go
through life. I will continue to volunteer in the church for years to
come.
I hope to see more people follow in my footsteps and take my place at
Portico as a volunteer. My life may take me places other than
Oshkosh. When I come back in the future, I hope my efforts will have
made a big difference. I have already seen changes in many of the
kids I work with. Hopefully, I will continue to see these children
grow in faith, values and morals for years to come.